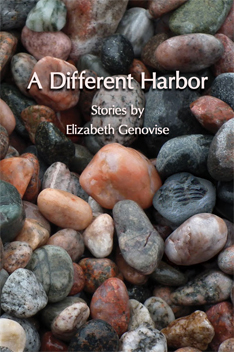 Short stories. Paper, Perfect Bound. 82 pages
2014, ISBN: 978-1-936419-38-8 $15.95 plus S&H
Note: You don't have to have a PayPal account in order to use the PayPal button, just a credit card.
---
The impulse to salvage, to resurrect, is always with us. The stories in A Different Harbor portray lives that have all the depth and wild weather of the Great Lakes, but are in desperate need of affirmation. From a child who has lost his mother, to a woman struggling to move on after a disastrous marriage, the characters in these stories flail for any chance to revive what they have lost. They collect fossils and watch old home videos; they chant mantras in the shower to remind themselves of who they are; they keep dried leaves under glass; they retell their own most painful stories just for the sake of keeping them alive. They find that sometimes it is possible to bring back the dead, but never in the way they had imagined. Often, the best they can do is to acknowledge the latent beauty in loss itself–which just might be enough to carry them through.
---
Praise for Elizabeth Genovise's work:
"With a quiet self-assurance, Genovise lays claim to a landscape strewn with wreckage. Plagued by ghosts of mothers and lovers and long absent friends, these storm-tossed characters suffer losses too terrible to tally. But still, they cling to hope–a stranger's interest, a recovered dream, a sister's understanding. In this beautifully imagined world, so much like our own, just staying afloat seems an astonishing victory." -Neil Connelly, author of Buddy Cooper Finds a Way and St. Michael's Scales
The stories in Elizabeth Genovise's A Different Harbor stake out territory on the tipping point. As in all the best fiction, these stories feature characters whose lives are in conflict with where they've been and where they're going. Things will change for them, but Genovise's vivid, sparkling prose tracks each journey with compassion and grace. This is a remarkable debut from an exceptionally talented writer.-Christopher Lowe, author of Those Like Us and When You're Down By the River
---
Sample passage from "The Seiche"
One clear July night, the two women stood on the dock behind the house and watched the Northern Lights, green and yellow waves bearing stars like floating sand dollars, until very late. Marta was talking a good deal, telling Adele all about her husband, and then, it just came out: first, the rumor about the shipwreck, and then, what Frank had done before he brought Adele up to the peninsula.
Adele was furious for what seemed like the hundredth time that summer. In bed that night, looking at the sailor's anchors hung on the wall, she'd wondered: what was Frank so afraid of? That she'd see the wreck, and in seeing it, would bring down all manner of disasters upon the two of them? She knew Frank, even when they were so young, knew what he was seeing: the wreck and the two of them in a twisted embrace, their perfection ruined.
Frank was at sea that night, but the following day when he came back to the house, Adele told him just what she thought. She said, "Things die, Frank. And ropes and a buoy aren't going to keep that back from us. Accept it and stop this." When he was silent, sullen, she went up to her room in Marta's house and closed the door on him. So Frank went back to work in a storm, thinking she might leave him, and in his way, thinking that he'd been right all along: there'd been a wreck.
"The thing he'd always been afraid of," Adele says, shaking her head and pulling the blanket tighter around her shoulders. "A wreck."
I imagine what Frank must have seen in his mind then. A shattered hull, a ragged helm, a mast lying on the lake floor like the spine of some creature long dead. A double bed with a single pillow. A train ticket for one.
"Are you even listening?" Frank raises one eyebrow at me. "You know us. We like a captive audience."
"I'm listening," I say. "I promise. Go on."
So after Frank left that day, Adele decided to go for a swim, an act of rebellion. And that happened to be the day of one of the most sudden and dramatic seiches on Lake Superior: a nine-foot shift in water level that sent all the boats in the harbors thumping against each other, way on the other end of the lake where Frank was.
Adele was in the water when the seiche came, and it came fast. Within minutes the water had rushed away from the shore and exposed the dropoff. The buoy and its ropes went limp, and Adele, standing now in absolute astonishment on the soaked and rocky lake floor, moved slowly down to the bared edge and looked over.
There was no shipwreck. Instead the lake floor teemed with life. The coppery bottom sparkled in the sun, and tiny scuttling creatures, suddenly ousted from their homes, rushed downward toward the receding waterline. Adele reached down and brought up a rich handful of the sand. Even as she stared into the grains, the water began to filter back into the hollow. She stayed where she was. She watched the water rise up along her legs and stomach; she was so lost in the feeling of it that it shocked her when the water wet her lips, threatened to cover her nose. Adele pushed herself up off the sandy floor and began swimming again. And then, almost as quickly as it had come, the seiche was finished.
---
About Elizabeth Genovise
Elizabeth Genovise grew up in Villa Park, Illinois and is a graduate of Hillsdale College, Michigan. After a short stint in the Ph.D. program at the University of Iowa, during which she found herself skipping classes to write fiction, she changed her plans and moved south. She earned her MFA at McNeese State University in southwest Louisiana and eventually moved to east Tennessee for its mountains and hiking trails. She is currently teaching literature and writing, and trekking through the woods in her spare time. Her fiction has been published in The Southern Review, The Pinch, Relief, Yemassee, Pembroke Magazine, Labletter, Driftwood Press, Cold Mountain Review, and other journals. Her next short story collection, Where There Are Two or More, will be published by Fomite Press in 2015.
---