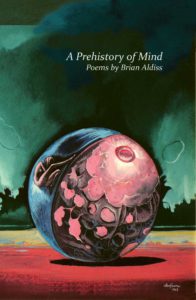 Poetry. Paper, Perfect Bound. 76pp.
$14.95 plus S&H
2008, ISBN 978-0932412-614
Note: You don't have to have a PayPal account in order to use the PayPal button, just a credit card.
Published here for the first time, on an exclusive basis, is Aldiss' new short story, "Mortistan". Experience a different side of Brian Aldiss in this volume-soon to be a collectors' item!
This self-revealing volume allows readers to:
ramble through a Martian desert and other fantastic realms
visit the Kremlin, Ulan Bator, a European cafe
get a glimpse of Aldiss' personal life
live through the eyes of a volcano
witness the terror of war and creation of the world

Colour Contrast
by Brian Aldiss

Frost and its crackling silences.
The dead of night. The general rests
His huge raw fists upon a dossier.
On his table burns an oil lamp
Giving forth a golden glow.
Beyond tall uncurtained windows
Snow lies. Bright moonlight floods the room
Its silver vanquishing the gold.
Footsteps break the stillness, boots
On stone. Four soldiers hustle in
A prisoner. He's made to stand
Before the general. His blood
Drips richly on the bone-white floor
Dark as molasses.

---

Award-winning SF author Brian Aldiss ventures into new territory with this, his first, full-length poetry collection.Named Grand Master by the Science Fiction Writers of America in 2000, Aldiss authored The Saliva Tree, the Helliconia series, Trillion Year Spree, and Jocasta—books beloved to SF lovers everywhere. Three of his works have been adapted to the big screen, including Spielberg's 2001 film AI: Artificial Intelligence. Whether you're a current or potential Aldiss fan, you'll enjoy the range, vigor and intimate self-portrait of these poems.