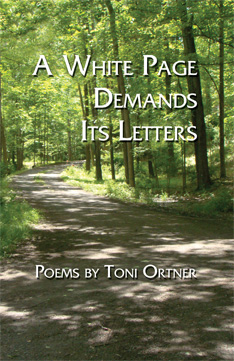 Poetry. Paper, Perfect Bound. 40 pages
2016, ISBN: 978-1-936419-70-8 $12.95 + S&H
Note: You don't have to have a PayPal account in order to use the PayPal button, just a credit card.
---
In A White Page Demands Its Letters, Toni Ortner records the pain of divorce and other loss. The poetic cycle, Dream Sequence, placed here in chronological order, has a raw intensity that strikes the reader like a knife in the heart. The poet must invent a new self in order to survive. The book is a sequel to Traveling, a Perspective, published by Kelsay Press.
---
Praise for Toni Ortner's work:
Toni Ortner's chapbook "A White Page Demands Its Letters" reflects a mature poet who has grown into her wisdom. Ortner is at the height of her powers as she casts her critical eye from Zen to war and the holocaust. The work ranges from dense prose poems of family life to short haiku-like pieces devastating in simplicity: ("and life was not a cracked shell/ with a dead embryo/ a trickle of blood"). "A White Page Demands Its Letters" is a treat to be savored on those long nights when nothing satisfies as deeply as finely-wrought poetry. — Betsy Snider, Hope is a Muscle, winner of the 2015 Blue Light Book Award
This book is comprised of prose-poems and shorter lyrics drawn from the harsh light of personal and political angst. In her poem titled "Holocaust" Ortner meditates:
Think of these verses as voices of children
blown out of time
not
gray powdered dust.
In a poem titled "Vietnam" she hears the survivor's scream. "All I can do is keep on marching." Toni Ortner's voices speak truth to destiny: shipwrecked and broken, imagining our becoming and rising through the eternal flames of hope." Terry Hauptman – Poet and painter
---
Poet of my dreams
Dreaming nightly my darling of trains and stations
dreaming of you who are never there
boarding trains that never reach their destination
I switch frantically to form new connections. The pauses in my speech are remnants of a pure language whose notes the instrument tongue can no longer speak. For one entire year I pretended you were dead. Grief lighter than a leaf falls into the sun.
Real language
floats between the lines.
You wander singing
on the dark side
of the moon.
---
About Toni Ortner
Toni Ortner who lives in Putney, Vermont is the author of 20 poetry books and a memoir. Her recent writing as well as reviews of her work can be viewed on vermontviews.org at the Old Lady Blog. Toni is widely published. Her previous book for Mayapple Press, As if Anything Could Grow Back Perfect, is a chapbook which came out in 1979. During the last two years she has published Writing with Our Blood, Don't Sit Shiva for Me, Currents We Never Dream Of, and Water Poems via Moon Publishing, Traveling: a Perspective via Kelsay Books, and Jeopardy via Finishing Line Press. End Rhymes for End Times and Stories We Tell Ourselves to Survive (with original art work) will be published by Knut House Inc in 2017. Toni hosts the Write Action Radio Hour on WVEW l07.7 FM, Brattleboro, VT. On the monthly show she interviews writers and they read their work. She gives readings at bookstores and libraries. Toni's main website is http://toniortner.com/. Her podcast is available on Soundcloud
---