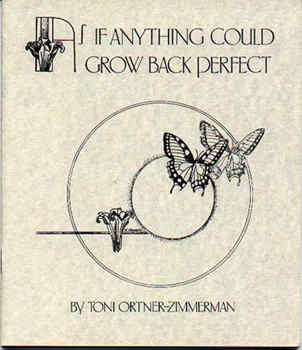 Paper, saddlestitched, 16 pp
$5 plus s&h
1979, ISBN 0-932412-02-5
A collection of short lyrics with a contemporary flavor and imagery centered on popular music. Published in cooperation with Earth's Daughters magazine.
As If Anything Could Grow Back Perfect
by Toni Ortner
These days
I spend all day
burning my past
watching sheets of paper
shoot up in orange flames.
There is less and less I wish to say.
Much of what I said was useless.
I study a single stone
its purity of line
shimmering in the heat
set grape ivy
in the sun
keep the soil moist
feed the cats.
I give away everything I consider unnecessary
to someone who may use it.
I try to learn to live with less than less.
---
Toni Ortner lives in Putnam Valley, NY. She is author of more than a dozen books. This book was published under the name Toni Ortner-Zimmerman.