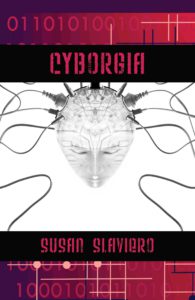 Paper, perfect bound, 78 pp
$14.95 plus s&h
2010, ISBN 978-0932412-904
Melding the language of sci-fi and sensuality, Cyborgia, Susan Slaviero's redolent, ambitious debut, wallows delightfully in its rhythm and vocabulary yet remains sharp and meticulous. In this lyric guide to cyborg feminism — complete with robosexuality and teledildonics — Slaviero traverses traditional female tropes, including fairy-tale heroines, mermaids, and brides. Full of lucent wit, imagination, intelligence, and a scathing playfulness.
---
Consider the Dangers of Reconstructing Your Wife As a Cyborg
by Susan Slaviero
1.
If you ask, I will explain the paradox of a virus that infects only metal. I am not your celluloid marionette. Not marriage material, or hulled fruit. You think I am cruel as the moon, but really, I am the ghost of your formulations: aluminum and simmered bones. But I remember skin and strawberries, the need for bandages, the scent of laundry soap and baking powder on Saturdays. I'm not saying that's useful. I'm only saying you weren't as methodical as you believe.
2.
I build myself a daughter of wire and potatoes, bits of broken toys. She is the lie I tell you. She is the robot I never had. There is a clock in the garage I might use to make a baby that will smile at the turn of a key. You are superfluous. This house is full of zygotes: the transistor radio, the refrigerator. Lampwire and smoke detectors. In the twenty-six minutes since I've been resurrected I have devised about ten different ways to disassemble you. Imagine what I could do with an hour and a box of power tools.
---
Susan Slaviero is the author of two poetry chapbooks: An Introduction to the Archetypes (Shadowbox Press, 2008) and Apocrypha (Dancing Girl Press, 2009). Her poems have appeared in RHINO, Flyway, Fourteen Hills, Wicked Alice, Caffeine Destiny, Arsenic Lobster, and others both online and in print. Her poem "The Noir Wife" appears in the 2008 Best of the Net Anthology. She was twice nominated for a Pushcart Prize in 2008, and she designs and edits the woman-centered literary journal blossombones.