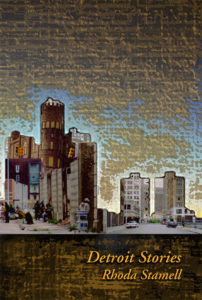 Paper, perfect bound, 102 pp
$18.50 plus s&h
2006, ISBN 0-932412-38-6

"Detroit Stories" by Rhoda Stamell is available on Kindle. Click to download from Amazon
Mayapple Press's first fiction publication. As Charles Baxter says, "All the grit, humor, intelligence and darkness of Detroit" can be found in this collection of stories about people struggling to love and be loved.
2006 Pushcart Prize nominee
---
from Love for a Fat Man
by Rhoda Stamell
She was not beautiful; she was out of place. For one, the soles of her shoes were too thin. Any piece of broken glass could cut through thin soles like that. She knew that. She picked her way delicately among the broken bottles in the parking lot, the pot holes puddled with muddy water, the cans, and the newspapers. She held her skirt as if it might sweep across the filthy pavement. In the beginning anyway because she changed so much that I think I am remembering someone else. In the beginning she seemed fragile and breakable, but not broken. Broken was what she thought she was, but I wouldn't have started up with her if that had been true. Broken women are too dangerous. They don't care enough to be cautious.
The women who worked in the clinic—City Health and Social Services—talked about her in Spanish. The nurses speculated about the cost of the buttery leather satchel that she carried. The clerks envied the paisley folds of her skirts, the ruffled silk of her blouses. Even the pediatrician, who was from Pakistan, remarked on the gold ring that she wore: "True gold, twenty-two carat, and the diamonds are not of glass, I tell you."
I preside over this world of women. Aside from them there is only Xavier, who drives the van, and the medical residents who are assigned here for rotations in pediatrics and obstetrics. The residents cause me the most trouble because there aren't any barriers here between their medicine and the malnourished children; no way to separate themselves from the junkies in Prenatal, from the women who come up pregnant every ten months; from the tea-colored babies brought in by pasty-faced girls. These residents have a lot of flat tires and incidences of the flu, and I report them to their chiefs. "Medicine is about people," I tell the chiefs. It is an effective argument….
---
Want to read the rest? Buy this book!
Rhoda Stamell began writing fiction at the age of 50 and retired from teaching high school to write full-time at 61. She has won several awards and writing residencies.