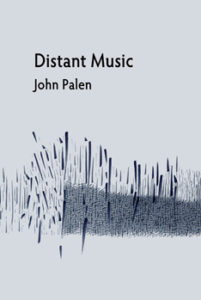 Poetry. Paper, Perfect Bound. 74 pages
2017, ISBN: 978-1-936419-74-6 $15.95 & S&H
Note: You don't have to have a PayPal account in order to use the PayPal button, just a credit card.
---

Distant Music by John Palen is available for Kindle here.
---
The poems in John Palen's Distant Music inhabit a harsh Midwestern America of damaged prairies and inward-turning small towns, whose people are nonetheless touched by moments of grace. Unmarked graves of paupers in a rural cemetery underlie native flowers "in glorious bloom." A victim of childhood sexual abuse grows into her own recovery by "Learning to Breathe." A snow-plow driver burdened with guilt finds respite after a long night's work, waking to snow-banked streets and "all that weight pushed aside."
These poems also range broadly through the past. One offers a raucous recounting of the Gold Rush pioneers and the things they left behind on the trail. Another tells the story of a multi-lingual, freed mulatto slave who mediated Indian/white negotiations on the shifting frontier. A short history of St . Louis's famous local brick, now scavenged and resold out of pickup trucks to rebuild New Orleans, concludes with "one hollowed-out old French river city/ transfusing itself into another/ in a trickle of red."
Several poems explore sex, love and marriage in the details of berry picking and home canning.
Another sees the creative process at work in a cabinetmaker who cruises the streets for cast-off wood, his eye taken by "clean lines,/ the way light reflects off the grain/ of spruce or maple."
Grounded not only in place and time, but in an artistic commitment to accuracy and precision of language and emotion, Distant Music is Palen's eighth book of poems.
---
Praise for John Palen's work:
John Palen's new collection, Distant Music, is populated with the likes of Bach, Picasso, covered wagons, and hardscrabble boys "feral under an ivory moon." The poems move easily from concert hall to back porch to the poet's own father in "a plain corner of the afterlife." John writes about people, those he knows well and those he can only re-create from recorded history, in a way that frees them to become equal quantities observed and observer. These poems are solid and beautiful "the way light reflects off the grain/ of spruce or maple." They are "headlights sweeping the ditch banks" to unmask treasures at the edge of the prairie that you might have passed by without noticing. The poetry in Distant Music settles onto you, helping you understand what is dispensable and what isn't. – Julie Price Pinkerton, winner, 2016 Rattle Poetry Prize
What a pleasure to have this ample collection of John Palen's work, and to discover its uniform excellence. The poems have a wonderful specificity and precision, filled with the names of things, learned through a lifetime of paying attention, and stories of ordinary people, gleaned through a lifetime of caring. Palen has that rare skill of placing them—the people and the things—just so and then letting them speak for themselves. To speak of his writing process, Palen conjures a man cruising the streets where people put out their cast-off things, looking for usable wood, passing most of it by:
Then something pulls at you:
clean lines,
the way light reflects off the grain
of spruce or maple,
and you stop
and pop the trunk.
– Eric Torgersen, author In Which We See Our Selves: American Ghazals (Mayapple Press)
In Distant Music, poet John Palen expands his commitment to Midwestern prairie history and culture. And with good reason: he has lived, read about, and imagined it; and in poem after poem in this strong and understated collection he provides what Twain once called "snapshot glimpses" of people and events that will arrest a reader's attention as they arrested his. He is keenly observant—nothing is wasted on him—and his language is precise. Here, in towns twenty streets by twenty streets…the green land [is] visible all the way out to sky/ before it slips down earth's curve. The morning paper arrives like a hurt bird. Everything in this world is called by its real name: lead plant, blazing star, turkey foot. The truths he gleans from this world, a kind of plainsong, are close-up and uncompromising. – Larry Levy, author of I Would Stay Forever if I Could (Mayapple Press) and All the Dead are Holy (Atmosphere Press).
---
PRAYER FLAGS
Somehow they cheer me up,
these plastic grocery bags the color of old teeth,
caught in fence wire, blown to tatters
by the patient prairie wind
thirteen thousand hard miles
from mountains where bright Tibetan flags,
blue, white, red, green and yellow,
shake blessing on the world.
---
About John Palen
John Palen grew up in small towns in southwest Missouri and attended Washington University in St. Louis, where he was a student of Donald Finkel. His poems have been published in literary magazines since the late 1960s. Recent work has appeared in Bluestem, MacNeese Review, Main Street Rag, Delmarva Review, and upstreet. Mayapple Press published Open Communion: New and Selected Poems, in 2005 and Small Economies, in 2012. After a 45-year career as a journalist and journalism educator, Palen lives in retirement in central Illinois.
---