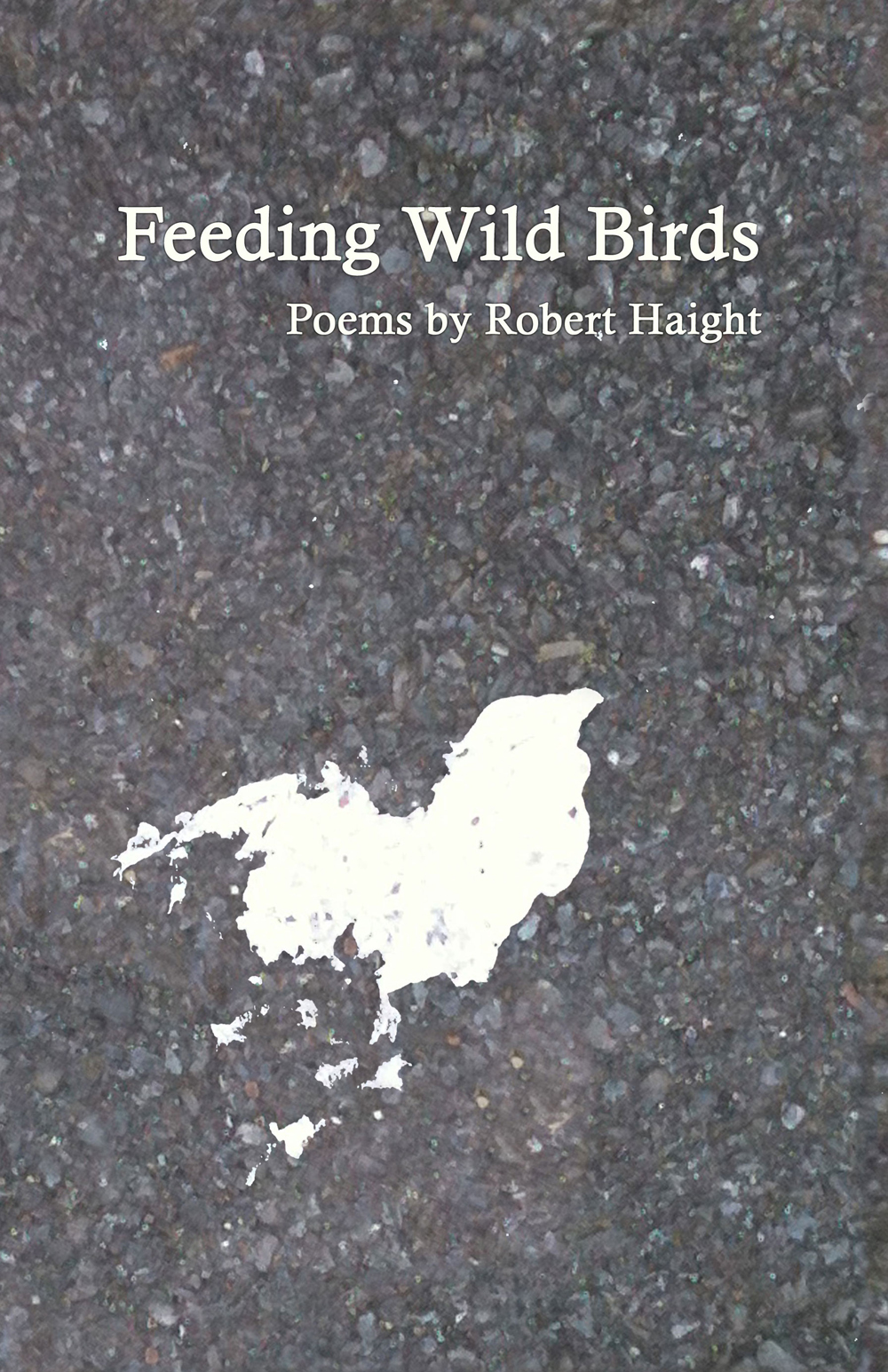 Poetry. Paper, Perfect Bound. 80 pages
$15.95 plus S&H
2013, ISBN 978-1-936419-27-2
Feeding Wild Birds is a collection of poems rooted in the Michigan landscape, as seasons and lives undergo their seamless and subtle transformations. These are meditative poems in spare and simple language that examine the energies in animals, woods, lakes, land, weather and the human heart. In the silences and sounds of nature, the poems speak of the spirit that hovers just beyond the realm of our ideas, that whispers to us in stillness and that lights the paths of our awakening to the beauty of the world.
---
Praise for "Feeding Wild Birds"
Like the Buddhist and Taoist sages whom he admires, Haight places human life within the great realities—seasons, weathers, the cycles of birth and death, the host of living things—and he does so with a heart attuned to wildness. These are poems without an expiration date, as fresh and clear as moonlight or the morning dew.
– Scott Russell Sanders whose most recent collection is Earth Works: Selected Essays.
The beautiful poems in Feeding Wild Birds immerse me in a landscape that both awakens and instructs. Robert Haight has a way of seeing the faint blow of mystery, the world both real and transparent as soap bubbles. Everything is turning: leaves, seasons, parents' lives. The turning is elegiac, but sparked with immediacy. This is a book that will wash your senses clean.
– Fleda Brown
In Feeding Wild Birds, Robert Haight seamlessly blends the observing eye of a field biologist with the aslant vision Emily Dickinson said a poet must have. He sees the truth with a freshness and depth, which, if we are awake to it, intensifies our vision of the ordinary and recasts it in a remarkable new light.
– Dan Gerber
---
Feeding Wild Birds reviewed at Poet's Quarterly – by David James
Robert Haight's poem Early October Snow is added to the American Life in Poetry project
---
The Servant of Small Things
Call me the servant of small things,
of the mongrel dog lying in cherry shade,
bone and bone and stick and mole
lined up before him as he tastes the wind,
watches lilac fade, sun seeping into fur
through the sashes of leaves
and of the cat in a square of sun
vibrating a mantra that space and time
aren't filled like a food bowl or cup
of Milky Way, silence overflowing silence,
pouring over the rim of morning,
puddling on the lawn.
In seven languages the birds call out their names
or yours or mine as I pour sunflower seeds into feeders.
Some of them are Brazilian
jazz singers who touch your skin with their voices
as the maple dances in its robe of Canadian flags,
the dogwood wears its white shawl all May.
But this is a sultry summer song
so the willow in her grass skirt
sways a slow hula each time the wind blows,
whispering certain words of love
that only a servant of small things can hear.
---
About the Author
Robert Haight was born in Detroit and educated at Michigan State University and Western Michigan University, where he received a B.A. in English and an M.F.A. in Creative Writing. He has published two poetry collections, Water Music and Emergences and Spinner Falls, and he has written essays and articles on fly fishing, the environment, education and spirituality for a variety of edited books, journals and magazines. His writing has won awards from the Poetry Resource Center of Michigan, Western Michigan University, the Kalamazoo Foundation and the Arts Foundation of Michigan. He teaches writing, literature and meditation at Kalamazoo Valley Community College and lives at Hemlock Lake in Cass County, Michigan.