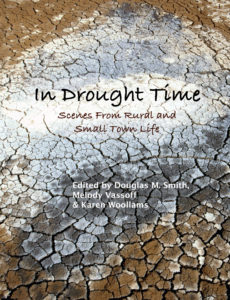 2015 marks the 10th Anniversary of the publication of In Drought Time
Paper, perfect bound, 114 pp
Includes 62 full color and black & white illustrations
$27.00 plus s&h
(First edition 2005)
This edition 2015, ISBN 978-1-936419-57-9
(Note: You don't have to have a PayPal account to use this button, just a credit card)
---
In Drought Time: Scenes from Rural and Small Town Life
(2nd ed.)
Edited by Douglas M. Smith, Melody Vassoff and Karen Woollams
Includes 62 full color and black & white illustrations
2015 marks the 10th Anniversary of the publication of In Drought Time
In Drought Time presents the story of small town and rural life through art and poetry. With the swift change in land use and the growth of villages into cities across the Midwest and beyond, In Drought Time attempts to capture a way of life that is in flux and perhaps soon to be lost forever. Nationally known painters and writers contribute to a unique portrait of people and place not often addressed in literary anthologies.
This is a book not just for poetry and art lovers, but for anyone who has dreamed about life beyond the urban sprawl and for the many who have already fled the city for life in the country or in a small town. In Drought Time is not just a celebration of the beauty and peace of a pastoral life but also addresses the darker side of this exodus: the loss of family farms, isolation, small town prejudice, and the homogenization of middle class life.
The nineteen writers in the anthology include such well loved poets as Thomas Lynch, author of The Undertaking and Still Life in Milford; Laura Kasischke, author of three critically acclaimed novels and six collections of poetry; Richard Tillinghast, former Director of the Master of Fine Arts Program at the University of Michigan and author of several poetry collections; as well as poet and short story writer, Keith Taylor.
Artists from the Ann Arbor Washington Street Gallery, the Chelsea Gallery and the Chelsea Painters Group, as well as twenty-two acclaimed area artists have contributed artwork expressing a spectrum of styles and subject matter. Some of the well-known artists represented in the book include Laura Strowe, Mary Beth Koeze, William Brody, Joan Painter Jones, Jean Lau, Madeleine Vallie, Teresa Freed, Sandy Knapp, and Greg Sobran.
Includes 62 full color and black & white illustrations
---
Attention Contributors, if your work is included in this book, please get in touch by clicking here.
---