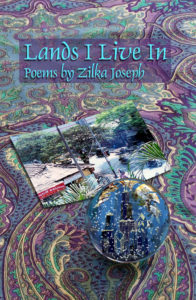 Poetry. Paper, perfect bound, 42 pp.
$12.95 plus s&h
2007, ISBN 0-932412-47-5
In richly detailed, exuberant poems, Zilka Joseph embraces the vivid passions of her childhood home in Calcutta and the complex hopes and fears implicit in her move to the Midwest. These poems capture in evocative and specific ways the living-in-two cultures of America s new immigrants. Joseph highlights the experience of arriving in the United States, a first snowfall, and communicating with a family that warns to "stay away from the snow." Enlightened and sometimes humorous, Lands I Live In allows the reader make the journey, too.
Read a review of Zilka Joseph's Lands I Live In in Detroit's Metrotimes
Read an interview with Zilka Joseph in the Detroiter
2007 PEN Beyond Margins nominee AND 2007 Pushcart Prize nominee
---
Faraway Aunt
by Zilka Joseph
My nieces look at me in awe,
stare at my jetlagged clothes,
thaw slowly, and finally snuggle up to me,
waiting for the moment I will open
the hallowed suitcase—
lumpy and dusty after travelling many time zones,
with magical words like Northwest-KLM
or American Airlines on torn tags.
Their searchlight eyes are unrelenting
and pierce the thick Samsonite skin of the bag,
dreaming of what lies inside—
what may surprise them? The heat throbs
outside the window, they whisper within
the walls of their tiny room. I can hear
the heartbeat of their thoughts.
Hockey-practice-sticky, ties awry,
blue school uniforms disheveled,
faces wet, they are breathless.
I release them from agony.
Lindt and Godiva spill gold on the bed,
the red backpacks make them scream Look Mom,
it's Jansport! The 60 color gel pen set
reflect in their eyes like rainbows.
Craft-kits, books and sugar cookies appear
from the bottomless bag—
they gasp as they view the spoils,
then scrutinize Mom and Dad's gifts,
even the Snausages and flea-collars for Duchess.
For a moment a silence chills the room
before their joy breaks like the monsoon over me.
I absorb every drop like a parched sponge,
devour expressions, movements, squeals,
all precious cargo I will carry overseas
and savor slowly, as they will my gifts—
one bite at a time, for a year or two. And till
I can hug them again, I leave treats, kisses,
funny photographs to remember me by.
---
Zilka Joseph was born in Bombay, India, She grew up and was educated in Calcutta. She moved to Chicago with her husband in 1997 and currently lives in Auburn Hills, Michigan.