---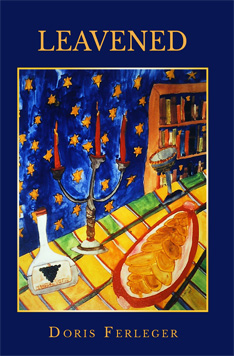 Poetry. Paper, Perfect Bound. 64 pages
2015, ISBN: 978-1-936419-47-0
$15.95 + S&H
---
Come to the first supper in America with Momma and Poppa, two surviving aunts and two surviving uncles who speak in flawed English, who first think catsup is a disinfectant, who hunger for luck, salt, safety and family, who will proudly feed their children the sliced white bread of assimilation and the bread of memory. The bread of memory is leavened and triple braided with: Holocaust, shtetl and Sabbath light; the voices and points of view of immigrant parents, their children and grandchildren; disaster, miracles, and awe; hope, hopelessness, and humor; sisters, survival, and loss, and above all, tenacity, trauma, and resilient, abiding love.
---
Praise for Doris Ferleger's work:
These are painfully beautiful poems. — Elie Wiesel
Backlit by the voices and memories of Holocaust survivor-parents, and by the reverberations of their history in the speaker's own life, Leavened offers more than a moving and authentic retrieval of something that should never be forgotten, though it does so superbly, without pathos, and that would have been enough. It also touches upon larger questions of ancestral memory, the empathic nature of family ties, the sustaining yet ambivalent nature of faith, and the open question of what God might have to account for. This book, rich with the weight of Jewish experience, illuminates what it means to be anyone, of any faith, who loves and seeks and grapples with the obstacles that both threaten and strengthen the endeavor of being human. — Leslie Ullman
"No matter who you are/trouble, not of your own/ making, will come to you." In Leavened Doris Ferleger gives voice not just to those who endured the Holocaust, but to the children of those survivors and to all of us who must make sense of the pain inevitable in our lives. We do more than learn what Aunt Alice and Poppa and Momma and Uncle Cazik had to face – our lives leavened with their suffering – we also sit down at the table with them. The poems are seasoned with salt and catsup and horseradish; we're served salami and scrapies, caramelized onions, burnt pot roast and braided bread. How do you understand the story of a family and of a culture without tasting what they taste? I am moved by how brave and how beautiful this book is. It is also one of the few books that honor the history a brother and a sister share. The crafted and compelling poems of Leavened teach me what it is to remember and to retell, to truly listen and to speak truth, to hunger and to hope. — Christopher Bursk
---
First Supper
Momma's and Poppa's first meal in America
was at Uncle Sol's, bright coal eyes,
Stetson suede hat, matching tan suit,
thick auburn mustache waxed into handlebars,
which, to my grandfathers, would have been
considered as Gentile as clean-shaven,
and worse yet, the uncle's wife, Aunt Riva,
was a divorcee, a shonda in the Old Country,
and though Riva taught Momma which side of the plate
the knife and fork goes, she served traif
and Momma got really sick from eating too much
of the ham, too tasty and salty to pass up,
and Poppa couldn't believe there was corn
on the cob on the table, a food reserved
in Poland only for the swine, forbidden
to be owned or eaten by Jews,
swine now sitting smoked at the uncle's table,
and so Poppa knew to ask for the disinfectant,
the cold red gloppy stuff American soldiers had
poured on every potato, every piece of meat
on the boat to America. All the way around
the room, ten American cousins laughed,
though Poppa knew no one
from his shtetl would have laughed
at what he wanted—to cover the profane
food with the red sauce that would purify
everything about to enter his mouth, everything
of this strange new land that would save his life.
---
About Doris Ferleger
Doris Ferleger, award-winning poet and memoir essayist and 2009 Poet Laureate of Montgomery County PA, is the author three other volumes of poetry: Big Silences in a Year of Rain (Main Street Rag 2010), When You Become Snow (Finishing Line Press 2011), and As the Moon Has Breath (Main Street Rag 2013). Winner of the New Letters Poetry Prize and the AROHO CNF Prize, among others, her work has been published in numerous literary journals including Cimarron Review, Poet Lore, L.A. Review, and South Carolina Review. She holds an MFA in Poetry and a Ph.D. in Psychology and maintains a mindfulness-based psychotherapy practice in Wyncote PA.
---