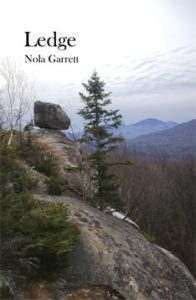 Poetry. Paper, Perfect Bound. 94 pages
2016, ISBN: 978-1-936419-68-5 $15.95 + S&H
Note: You don't have to have a PayPal account in order to use the PayPal button, just a credit card.
---
The various speakers of Nola Garrett's Ledge: New and Selected Poems talk with each other even as they confront their crisis decisions, well aware of the treachery, beauty, danger, and history that have brought them to the moment of each poem. The new poems, some formal, some free verse, are set mostly in Western Pennsylvania and Florida. A teen age brother's death haunts many of the Pennsylvania settings. One three-poem series is spoken by an alligator. A husband speaks out of his dementia's fear and confusion which lead to a series of divorce poems. The personae of the sestinas and Selected formal poems speak from times and places as diverse as Madagascar, Sweden or the Old Testament. Garrett never spares herself; throughout the entire collection she tells us about the grace of lake and river water flowing through and around family, history, murders, theology, divorce, rapes, geology, chicken thieves, Mahjongg games, grief, concerts, our aging bodies, and the other thorns and wild flowers of our lives.
---
Praise for Nola Garrett's work:
As a woman writer, Garrett underscores the experience of women in this collection, particularly in the realm of relationships. Also, as one of the best living practitioners of the sestina, she assembles some of the tour de force sestinas for which she is best known. I have followed Nola Garrett's career for years, and so it is particularly satisfying to see that these sestinas will have an even wider audience. — Kim Bridgford
Garrett's persona struggles with God, with her desired versus proper role, with the way the holy is infused with all that is ordinary–for example, receiving communion from her husband: "He is opaque, / no flicker of remembering / his body searching mine last night /…All is now." These are highly imaginative poems, and like all good ones they are slightly unsettling." — Jill Pelaez Baumgaertmer Christian Century Review
How refreshing to open a book of contemporary poetry and become immediately engaged! Here's a poet whose formal expertise combines with her ability to infuse her work with both pathos and humor. While her sestinas are especially remarkable for their variety and power, all the poems in this fine collection are marked by musical language and good storytelling. With the precision of the butcher alluded to in the book's opening poem, Garrett examines the world we all inhabit and spares us nothing. — Andrea Hollander
---
In October 2017, the opening poem from Ledge, "The Pastor's Wife Considers Her Chops", was published as part of Nasty Women Poets: An Unapologetic Anthology of Subversive Verse Edited by Grace Bauer and Julie Kane (University of Washington Press).
---
Ledge
Up here in the low 70's, past puberty,
high school, most final exams, childbirth,
one failed marriage, menopause's heat,
and only three real jobs, how good it is
to forget, let the instant haze of memory
fill in my blues with a low static hiss
right down to the amount of dust
on my vital records. I nap
unashamed. I read books with no
social or literary value. I watch
movies on DVD's, pause for bath-
room breaks. Springs weaken.
Scale numbers fade. I don't try
anymore to be fair. I give random
presents. I parcel out my stuff
that makes me feel guilty: posed
photographs, crystal, toys, silk
flowers, dishes my mother
gave me that probably made her
feel guilty, too. But, who knows?
No one keeps track of what happens
up here on these ledges. From a distance
I must look like a hunched boulder.
Closer, you would see my spidery
veins writing narratives up and down
my legs as if I were a rendering
of a precarious Rosetta Stone. Mere
rubble or lost tax exemption or
a feast's proclamation—what my life
means I'll never know. I tend the coals
of this marriage in our house perched
on 80 loads of fill, though I still dream
dreams connecting my past to this morning's
sunrise overlooking the blank, granite
surface of our silent lake.
---
About Nola Garrett
Nola Garrett is Faculty Emerita of Edinboro University of Pensylvania. She presently lives in Downtown Pittsburgh, PA. She has received a Residency at Yaddo; Scholarships from White River Writers' Workshop, Bread Loaf Writers' Conference, West Chester Poetry Conference; and is listed on the Mezzo Cammin Women Poets Timeline. Her poems are posted on The Georgia Review's Vault and her monthly blog/essays are available online at Autumn House Press coalhillreview.com
This is Nola's second book with Mayapple Press; The Pastor's Wife Considers Pinball was published in 2013.
---