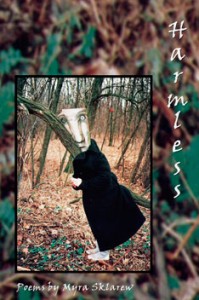 Myra Sklarew, author of Harmless will be one of the featured readers at the Split This Rock Poetry Festival in Washington DC.
The festival runs from Thursday March 27th to Sunday March 30th and Myra will read on Saturday March 29th. Myra's section runs from 4:30 to 6:30 and she will be joined by Claudia Rankine, Eduardo C. Corral, and Gayle Danley. The readings are free and open to the public.
All readings take place at the National Geographic Society Grosvenor Auditorium, 1600 M Street, NW., Washington, D.C. 20036 Map
Split This Rock Poetry Festival: Poems of Provocation & Witness 2014 invites poets, writers, activists, and dreamers to Washington, DC for four days of poetry, community building, and creative transformation. Featuring readings, workshops, panel discussions, youth programming, parties, and activism, the festival offers opportunities to speak out for justice, build connection and community, and celebrate the many ways poetry can act as an agent for social change.
While all readings are free and open to the public at large, you may want to attend some of the other events. Click here for details and to Register Now! Registration ends on Thursday, March 20, 2014.
Here is the full schedule:
Thursday March 27
7:30-9:30pm
Joy Harjo, Dunya Mikhail, Danez Smith
Friday March 28
7:30-9:30pm
Anne Waldman, Tim Seibles, Maria Melendez Kelson
with 2014 Poetry Contest Winner Karen Skolfield
Saturday March 29
4:30-6:30pm
Claudia Rankine, Eduardo C. Corral, Myra Sklarew, Gayle Danley
8:30-10:00pm
Yusef Komunyakaa, Wang Ping, Franny Choi
Sunday March 30
11:30am-1:00pm
Shailja Patel, Sheila Black, Natalie Diaz