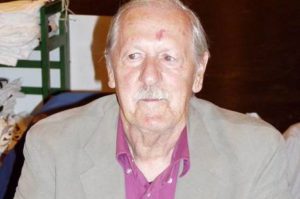 Mayapple Press is saddened to learn of the death of Brain Aldiss. Brian was best known for his sci-fi prose (the Helliconia and Supertoys Last All Summer Long), but he also wrote non-fiction and, for us, poetry. Brian Aldiss's Mayapple Press book "A Prehistory of Mind" was published in 2008. In addition to poetry, the book contains the short story "Mortistan"
UK based IT site The Register has a remembrance here.
The Guardian has a long piece here.