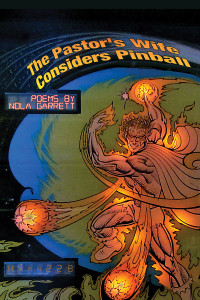 Gannon University to Host Award-Winning Author Nola Garrett
Gannon University's English Honor Society, Sigma Tau Delta, will welcome award-winning author and poet Nola Garrett on Monday October 28th at The Knight Club, 162 W. Fourth St., beginning at 7 p..
Garrett will visit and present some of her original poetry and Gannon students will be invited to share some of their own work.
Her poems, translations, and essays have appeared in Arts Letters, Christian Century, FIELD, Georgia Review, Poetry Northwest, and Tampa Review. Her chapbook, The Pastor's Wife Considers Pinball, won the 1998 American Poets' Prize. Her collection, The Dynamite Maker's Mistress: Variations on the Sestina Form was published in 2009. In 2013, Mayapple Press published the expanded version of "The Pastor's Wife Considers Pinball"
Berwyn Moore, professor of English at Gannon University and adviser to Sigma Tau Delta, said that Gannon faculty and students feel very honored to have Garrett as a guest speaker.
"Nola Garrett's poetry is inventive and poignant," Moore said. "She is particularly adept with the complex sestina form and it is a great pleasure to have her share her poetic vision and expertise with the Gannon community."
Sigma Tau Delta, an international English Honor Society, promotes literacy and language through fellowship, service and research.
The event is free and open to the public, with refreshments provided.
http://www.gannon.edu/NewsDetail.aspx?id=8589940469