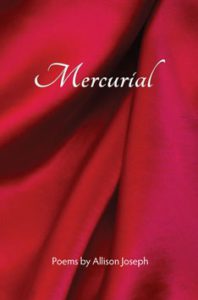 Poetry. Paper, Perfect Bound. 40 pages
2016, ISBN: 978-1-936419-64-7 $12.95

Mercurial is also available on Kindle
---
About Mercurial
Mercurial is the latest collection of poems from Allison Joseph: always accessible, musical, full of hard-earned wisdom, sass, and courage. Joseph writes about everyday situations in deft, heartfelt poems that span the spectrum of poetic ambition–free verse narrative, short lyrics, traditional rhyming forms and topical meditations. She is a poet of song and strut, an ambassador for the written word's deviations and variations, a conversationalist who just happens to speak in rhyme and meter. Readers of this book will encounter a woman who's not afraid to be herself—even if that self is ever-changing, ever-evolving.
---
Another gem that was a delight to read and savor out loud is Allison Joseph's gorgeous ruby of a chapbook, Mercurial (Mayapple Press), which reminds me of all the fun and sass to be had when writing in traditional form (odes, villanelles, sonnets) and how vital and affirming it is to read about women's bodies—in all their beautiful shapes—this past year especially. Reading List: January 2017, Aimee Nezhukumatathil Poetry Magazine
Praise for Allison Joseph's work:
Reading the aptly titled Mercurial is like having a long and eclectic conversation with an old friend whom Henry James would have called "a woman on whom nothing is lost." While clear thematic threads interweave the poems in the collection — Joseph's women are strong and unconventional, surmounting difficult circumstances and rejecting male stereotypes — Joseph also inspects quirkier topics with a tongue-in-cheek gravity. Where else would you find a poem entitled "Self Portrait as Small Town Bus Depot?" Joseph, a mistress of the sonnet form, demonstrates in these poems that her sassy, distinctive voice is equally at home not only in free verse but also in complex forms such as the villanelle and the rondeau redouble. But most importantly, these are poems that take center stage with the confidence of a talent honed to perfection, needing no permission to revel in their self-assurance: "A woman in a red dress/is lighting her skin from/within." — Anna Evans
In "Mercurial", the poet Allison Joseph explores those most vital journeys that make us human. More than that, the poems in this collection help us find the backroads to what is necessary in order to examine our own lives. In these works, Joseph rips the lid off social expectations and body image. She eloquently describes the difficult conversations we must have about women and our bodies. From a letter to her metabolism, to what it means to be "skinny", the metaphors will resonate for a long time to come. The poetry pays homage to her beginnings in the North Bronx, to her hard working mother, and the much needed exploration of racial issues in our society. This collection is brimming with images that will remain in the deepest caves of our psyche. As Joseph says, you will revisit the "obsidian joy you've found beneath the tips of our own palms, your own fingers. " – Connie Post, author of "Floodwater" winner of the 2014 Lyrebird Award
In Mercurial, Allison Joseph contends with issues of control and its lack – from the girl whose father "commands her/…voice terse// as a strikeout," to the street harassment of women who "haven't done// a thing except remain where I belong," to anorexics who "exercise[e] through all hunger pains." "My enemy is the stop sign," she asserts as she yearns from escape from strictures imposed on her body: metabolism, high blood pressure, beauty expectations. But when you realize through this deft collection of odes, sonnets, and villanelles that she has always been the one in control, when she tells you "I am your one way out of/ this place, so you better listen," you grab this book and hang on. Heidi Czerwiec, author of Sweet/Crude: A Bakken Boom Cycle
---
Ode to the Red Dress
Ode to the Red Dress
Forget little black anything.
A woman in a black dress
is mourning, no matter where
she goes in sky-high heels
or sweet sashay.
A woman in a red dress
is lighting her skin from
within, sending radiance,
diligence—fingertips
sleek over a slide of curves.
The red dress dances
while the black dress sulks,
the red dress pops its buttons
while the black dress denies
you its zipper, guarding
everything with a smirk,
finite dismissal of a wave.
Beast of a color, transfer
of heat and power, light
blush to quick flame,
the red dress giggles,
unafraid of wine, sweat,
scandals. Take that red dress
out of your closet
and put it on your body
where it belongs,
so your blood can divulge
its secrets. A woman
in a red dress has
no need of secrets,
of shame, of the sour
hurt that could mark
her face like a bruise,
a scar. A woman
in a red dress
is a vice, a crevice,
space you beg to occupy,
empty box now full,
thermometer's mercury
now burst from slender glass.
---
About Allison Joseph
Allison Joseph lives, writes, and teaches in Carbondale, Illinois, where she is part of the creative writing faculty at Southern Illinois University. She serves as editor and poetry editor of Crab Orchard Review, moderator of the Creative Writers Opportunities List, and director of the Young Writers Workshop, a summer writers workshop for teen writers.
Her books and chapbooks include What Keeps Us Here (Ampersand Press), Soul Train (Carnegie Mellon University Press), In Every Seam (University of Pittsburgh), Wordly Pleasures (Word Tech), Imitation of Life (Carnegie Mellon UP), Voice: Poems (Mayapple Press), My Father's Kites (Steel Toe Books), Trace Particles (Backbone Press), Little Epiphanies (Imaginary Friend Press), Multitudes (Word Tech Communications), The Purpose of Hands ( Glass Lyre Press), and Mortal Rewards (White Violet Press).
She is the literary partner and wife of Jon Tribble.
---