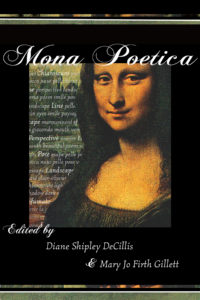 Paper, perfect bound, 114 pp
$16.50 plus s&h
2005, ISBN 0-932412-36-X
The Mona Lisa is the most famous painting in the history of art. It continues to inspire reproduction, parody and countless theories. We see facsimiles of it everywhere: on buildings and mugs, on computer ads, in cartoons. In honor of her 500th birthday, 2003-2006, Mona Poetica celebrates not only the painting but also inspiration and creativity. This rich and varied anthology includes work by: Stephen Dunn, Grace Bauer, William Blake, Edward Hirsch, Natasha Saje and many others.
Mona Poetica: A Poetry Anthology
Edited by Diane Shipley DeCillis and Mary Jo Firth Gillette
Poems by:
Jan Lee Ande
Grace Bauer
Janée J. Baugher
Guy R. Beining
Jacinto Benavente
David Bengtson
William Blake
Matt Beagle Bourgault
Linda Brown
Mary Burmaster
Diane Shipley DeCillis
Sharon Doyle
George Drew
Stephen Dunn
Martin Galvin
Christine Gelineau
Maralee Gerke
John Grey
Shayla Hawkins
Nazim Hikmet
Edward Hirsch
Karin Hoffecker
Betsey Houghton
Mark Johnston
Stephen J. Kudless
Thomas Lynch
Karen Maceira
Agnes Martin
Betsy McCully
Stephanie Painter
Ibba Partington
Karen M. Peluso
Christine Rhein
Christina Georgina Rossetti
Ruth A. Rouff
Natasha Sajé
Jean Paik Schoenberg
Lucille Gang Shulklapper
Paul Silverberg
Joseph Stanton
David Starkey
Susan Terris
Wayne Thiebaud
Judith Toler
Dean Young
Elizabeth Volpe
Nanette Weiss
---
For more information about the Mona Poetry Project and a variety of Mona "stuff," go to http://MonaLisaMania.com