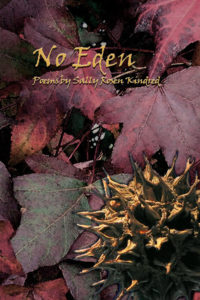 Poetry. Paper, perfect bound, 70 pp.
$14.95 plus s&h
2011, ISBN 978-0932412-980
The poems in No Eden merge the landscapes of a rainy girlhood in the American South and the mythic world of Noah and the Flood. In these poems, a backyard stretches between a mother and daughter–the lessons of "distance tender and biblical." The Carolina yard opens to hold the fruits of Eve and Lilith, the flight of Noah's raven and dove, the small terrors of curbs and classrooms. These are poems of a "family awake through a storm," an intimate theology of floods, loss, and betrayal.
---
No Eden by Sally Rosen Kindred reviewed at New Pages
---
No Eden
by Sally Rosen Kindred
Sad pear, God gave you
no fine story. Eve walked right past
your twilight body
unaware of how her teeth might break
into your bristling ashen
river, then slip kicking
and go under. You hang now
over the crumbling lake
off Highway 6 through
Branchville County, which is
no Eden. You listen
for falling in some dim field,
for angels unbuckling
their crimson ladders.
You are my lost fruit,
my mother's cheek before
she taught me hunger.
You are her body wobbling
in lake light where angels
won't throw their garnet ribbons down.
Pear of bitter thirst, pear
of the beloved lips of dusk,
turn your cheek to me.
You are what I remember.
---
Sally Rosen Kindred is author of Garnet Lanterns, winner of the Anabiosis Press Chapbook Prize. A Margaret Knight Sanford Creative Writing Scholar at Duke University, she received her MFA from the University of Maryland. Her awards include the Anne Flexner Poetry Prize, an Individual Artist Fellowship from the Maryland State Arts Council, and a residency at the Mary Anderson Center for the Arts. She has taught creative writing at the Pittsburgh Center for the Arts and the Johns Hopkins University Center for Talented Youth. She lives in Columbia, Maryland.