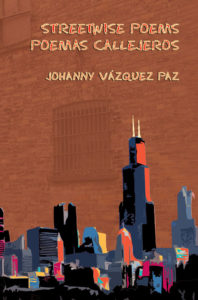 Poetry – bilingual. Paper, perfect bound,
74 pp.
$14.95 plus s&h
2007, ISBN 0-932412-46-7
These sensuous and passionate poems explore one of the many strands of contemporary Latino immigrant experience, dancing the tropical sensibility of Puerto Rico among Chicago's concrete and broken glass. In Spanish and English, with translations by the author.
2007 PEN Beyond Margins nominee
2007 Pushcart Prize nominee
Honorable Mention, Mariposa First Book Award, 2008 International Latino Book Awards
Read a review of Johanny Vázquez Paz's Poemas Callejeros / Streetwise Poems
---
La ciudad donde habito / The City Where I Live
by Johanny Vázquez Paz
Esta ciudad donde habito con sus muchas fronteras
delineadas por las vías del destierro y la necesidad.
Cada transeúnte con su periferia trazada,
aprisionados en una isla desierta,
construyendo murallas para esquivar el miedo
a las esquinas donde el odio se enlaza al fuego.
Esta ciudad no me acepta en su entraña.
Me dejo devorar por su boca hambrienta,
rebanar la lengua en rodajas de palabras impronunciables,
chupar mi esencia hasta el hueso,
hasta que el sabor de mi piel isleña la atraganta
y vomita en la trastienda mi ser de pueblo chico.
Allá donde me espera una tumba sin lápida
un mar desenfrenado extiende sus brazos desparramándose
en la barriga tibia de la arena amanecida.
Aquí
una ciudad para sobrevivir el hambre.
Allá
la isla de nunca jamás olvidar.
---
This city where I live with its many borders
outlined by the tracks of exile and necessity.
Every transient with his established boundaries,
imprisoned on a desert island
erecting walls to avoid the fear
of corners where hatred commingles with fire.
This city doesn't welcome me into its core.
I let it devour me with its hungry mouth.
Let it slice my tongue with unpronounceable words.
Let it suck my essence down to the bone,
until the flavor of my island skin makes it choke
and it vomits in the back room my small town self.
There where a grave without a headstone awaits me
the uncontrollable sea raises its arms and unfolds
over the warm belly of the sand at dawn.
Here
a city to survive hunger.
There
the island of never forgetting.
---
Johanny Vázquez Paz was born and raised in San Juan, Puerto Rico. She holds a Master of Arts in Hispanic Studies from the University of Illinois at Chicago and a Bachelor of Arts in Sociology from Indiana State University. Active on the Chicago literary scene, she currently teaches Spanish at Harold Washington College in Chicago, IL.