Sarah Carson's Buick City is reviewed in the Fall 2015 issue of Rain Taxi (Volume 20, Number 3, #79). Penny Guisinger writes:
Sentences […] seem to careen recklessly around corners, but they are imbued with gravity, built to keep readers from being flung off the track. Each narrative swells to fill every small shred of real estate afforded it on the page.
[…]
Near the end of the book, after readers have been convinced of Michigan's slide into despair, the author reminds us she wrote this love letter "just cause some things aren't ever really as bad as they seem." In Sarah Carson's hands, this is not a feel-good platitude: it's a pragmatic anthem of hope.
The Fall 2015 issue of Rain Taxi is Volume 20, Number 3. Or #79. You can order your copy here: Rain Taxi (Volume 20, Number 3, #79)
---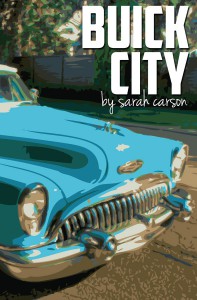 You can order your copy of Buick City here http://mayapplepress.com/sarah-carson-buick-city/