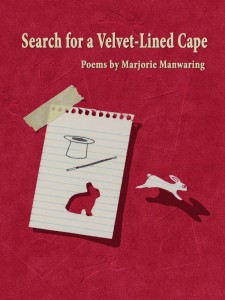 Poetry. Paper, perfect bound, 94 pp
$14.95 plus s&h
2013, ISBN 978-1-936419-15-9
Marjorie Manwaring lives in Seattle, where she is a freelance writer/editor, co-editor of the online poetry and art journal the DMQ Review, and editorial board member for Floating Bridge Press. Her poems have appeared in a variety of journals and anthologies, including 5 AM, Sentence, and A Face to Meet the Faces: An Anthology of Contemporary Persona Poetry, and her work has been featured on National Public Radio affiliate KUOW. Marjorie holds an MFA in Creative Writing and Literature from the Bennington College Writing Seminars and is the author of two chapbooks, What to Make of a Diminished Thing (Dancing Girl Press) and Magic Word (Pudding House Publications); this is her first full-length collection. Marjorie can be found at www.mmanwaring.com
---
"Search for a Velvet-Lined Cape" reviewed at The Rumpus
"Search for a Velvet-Lined Cape" reviewed at Poets' Quarterly
---
Praise for "Search for a Velvet-Lined Cape":
Escape artists of many stripes populate these pages: reflective oddballs, the curious, the strangely gifted, the vulnerable. We witness ineffable, transformative moments in the lives of airborne saints or Houdini. Or we're transported to the Bigfoot Car Wash, or to an orgy of dead poets. Manwaring's delightfully inventive poems bring to mind Steven Millhauser's fiction and the work of magician Ricky Jay in their love of marvels and illusions, rendered with sly intelligence. Teetering between pathos and brightness, these poems simultaneously deconstruct and enact enchantment.
–Amy Gerstler
We all want to know how the magic trick is done, but not until we've let it wash over us first. The poems in Search for a Velvet-Lined Cape make us wonder instead if poetry isn't the more suitable vehicle for illusion. For where there is a poet with Marjorie Manwaring's wit and depth, we the readers are moved, in and out of our simple realities until we finally reappear. We are deported out of thin air by the portraits, narratives, and wonderfully tangled lyrics in this spectacular book. These poems "Praise what ignites, dissipates. Plant / seeds of pomegranate in mind's blank dusk."
–Christopher Salerno
Something is always churning in these captivating, sometimes unsettling poems: The Zipper at the county fair (with mother inside), Monkey Girl and her baton, the bedroom ceiling covered solid with yellow jackets. Something is always changing: a snowman falling in love on a warm day, white paper roses transforming into doves. It's never a dull moment. But this clear, humane voice brings it all close and compels us to care. By turns wistful, wry (or out-and-out funny!), elegiac, and always smart, Marjorie Manwaring convinces us that even the surreal, even magic, even great sadness, is simply life as we live it every day, and that all of it is worthy of praise.
–Kathleen Flenniken
---
Magician's Assistant
The man by my side, patting my collar down, brushing cat fur from my sleeves before my appointment with the magician—he knows, my husband, the importance of these nights and yet still wonders what it is I seek at the magician's house. He knows there's more to it than a rabbit and a hat or a shell game, and tonight his hands will linger on the abrasions—Yes, I'll say, he's still working on the sawing trick, almost got it
down and I don't know when this fantasy grew to such proportions—the magician, the magician's assistant, but this man by my side, he sends me on my way and as I open the door he says, You forgot something, hands me my dog-eared paperback on illusion and escape.