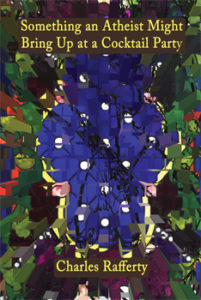 Poetry. Paper, Perfect Bound. 38 pages
2018, ISBN: 978-1-936419-83-8 $14.95 & S+H
Note: You don't have to have a PayPal account in order to use the PayPal button, just a credit card.
---
Something an Atheist Might Bring Up at a Cocktail Party explores what it means to encounter crisis in a godless world. The poems range from lyrics to dramatic monologues, and while they do not all address the idea of religion directly, the sense of our aloneness informs each of the poems.
---
Charles Rafferty in the Hartford Courant. Includes video of the poet: https://www.courant.com/ctnow/arts-theater/hc-ctnow-ct-poet-charles-poetry-0721-20190718-acgiaewfx5dnlgrhlbi2qynah4-story.html
---
Praise for Charles Raffety's work:
I have followed Charles Rafferty's work for the better part of three decades now. His is an art driven by intelligence and passion, crafted in the best sense. He is a poet equally adept at working in strict form as out of it. More than simple execution, though, it's Rafferty's way of seeing that pushes his lines into rare territory. The poems in his most recent collection, Something an Atheist Might Bring Up at a Cocktail Party, certainly fit that bill. Whether he is writing about the bustle city and country share, a boy's exotic dreams of hummingbirds and kayaks, swimming in the Great Salt Lake, or the pain of growing up Jesus's brother, there is a harmony of truth to Rafferty's poems that cannot be ignored. These are poems, and a poet, at full voice, necessary in all ways.
—Jack B. Bedell, Poet Laureate, State of Louisiana, 2017-2019
In Something an Atheist Might Bring Up at a Cocktail Party, Charles Rafferty continues his exploration of the biggest subjects, those for which there are no easy answers, in a voice that could be your next door neighbor's. Rafferty's speakers are plainspoken and surprisingly vulnerable, having been tossed about by daily agitations which have left them "a little bit happy,/a little bit used." They are often fathers who are carefully balancing the desire to guide with the growing understanding that acceptance may be the more lasting virtue. They find wisdom in the death of a pet bird ("Eat what you are/given, shit when you have to,/sing for the world beyond your reach"). They rely on love and connection to family. They are comfortable with knowing "we revolve/around something more/beautiful than ourselves." Charles Rafferty's poems have always cut through much of poetry's noisy distractions; the work he is writing now is even more distilled, more valuable to readers like you and me.
—Leslie McGrath, Author of Feminists Are Passing from Our Lives
---
Jesus's Brother
It was difficult living
with that relentless perfection.
He wouldn't tell me
how the water turned
to wine, and he never did it
for me either — only
for strangers, only for a crowd.
I remember him
as someone who was always leaving
to work his magic
in the streets — among the men
who clearly hated him, the women
who somehow didn't.
He was a lamp that lit my failings.
He showed me the cracks
in everything I thought and taught me
to fill them with the music
of his mystery, which he sang
in a key beyond my range
and which everyone around me
kept trying to hum.
---
About Charles Rafferty
Charles Rafferty's most recent collection of poems is The Smoke of Horses (BOA Editions, 2017). His poems have appeared in The New Yorker, O, Oprah Magazine, Prairie Schooner, and Ploughshares, and his stories have appeared in The Southern Review and Per Contra. His story collection is Saturday Night at Magellan's. He has won the 2016 NANO Fiction prize, as well as grants from the National Endowment for the Arts and the Connecticut Commission on Culture and Tourism. Currently, he directs the MFA program at Albertus Magnus College and teaches at the Westport Writers' Workshop.
---