---
Springback Manuscript Binders: the writer's old-time favorite! Ideal binders for poets, actors, writers, scripts, theses, law briefs and so much more.
REAL LEATHER is now available, custom-made! We can get a wide variety of colors. Please fill in the quote form. Priced at $125 for 1″, $130 for 2″ thickness. Pay by check or PayPal payment request. Turnaround usually 2 to 3 weeks, sometimes quicker. More details about Custom Engraved Leather Springback Manuscript Binders here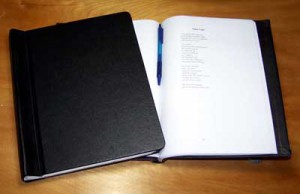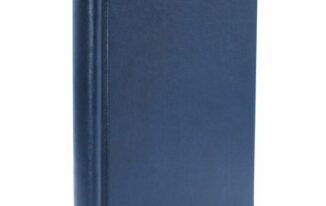 At the request of writers who work in long forms, we offer two sizes.


2″ thick
(comfortably holds about 200 sheets)
$45.00
+ S&H
New BLUE color in stock
Sheet counts above are conservative and refer to a paper weight of 20lb/75g (standard everyday use copy paper). Inserting more sheets or thicker sheets may make for less grip from the spine.
Note: You don't have to have a PayPal account to use the buttons above, just a credit card
Remember when you were an undergrad, and all the visiting writers read out of those cool black blue notebooks that looked like hardback books? We've located a supplier and are now offering them for sale in 2 sizes. PLEASE NOTE: These binders are sized for US Letter paper size. That's 8 inches wide by 11.5 inches tall (215.9mm by 279.4mm). This means that A4 paper will NOT fit comfortably, as it is 210mm wide by 297mm tall.

Unfortunately, we cannot provide the secret decoder ring or instructions for the secret writers' handshake. But these springback binders are the next best thing! One of our buyers says: "I just put my in-progress chapbook manuscript in the binder and it is so great to have it all in one place with the feel of a book. :)
The entire spine of this springback binder is a steel spring clip (the big brother of those "bulldog" binder clips everyone uses nowadays for papers.) You could think of it as a high tension spine clamp. The boards and spine are covered with blackblue leatherette, good for years of use.
To insert pages into a springback binder, you bend back the covers until they almost touch and the high tension spine clamp opens. The binder comes with a black tagboard folder to hold your pages. You just insert the folder with the pages (or the pages alone) and return the cover to the "closed" position.
These springback binders are ideal for use as manuscript binders, thesis binders, screenplay binders, presentation binder, legal brief binders, and so much more.
Here's a quick video showing how to insert pages into a Springback Manuscript Thesis Binder

If you cannot see the video click here!
These are also used as thesis binders, script binders and even stamp albums. Great for lawyers, too, for trial papers, estate plans, etc.! Our springback binders are seen on sets like "Dumb and Dumberer", "Community", Legendary Pictures and in the hands of actors and writers everywhere.
Payment via PayPal Money button above or you can call us with your credit card.
We also accept payment by check. New York residents please be sure to add sales tax. Please send checks to:
Mayapple Press
362 Chestnut Hill Rd
Woodstock, NY 12498
Shipping within the US is $12 for the first binder, $1.50 each additional, including mixed sizes. This is the shipping charge for our standard leatherette binders only – shipping for custom leather binders varies. Please query us.
"I love these and they are really high quality. I have both the smaller and bigger sizes in black. I work on film sets and it makes things so much easier than having to punch holes in things. There are other similar binders but these are the high quality ones. It is very professional looking for anyone who normally uses a regular binder you will fall in love with them." – A satisfied customer from the film industry
For International Orders, bulk orders, help with calculations or help with other questions, please send email to jbkerman@mayapplepress.com.
Once we have established the correct amount, we will send you a PayPal Payment Request by email, or you can send a check. Please do not use the PayPal buttons for bulk, custom leather or international orders.
REAL LEATHER is now available, custom-made! We can get a wide variety of colors. Please contact us by email about colors. Priced at $125 for 1″, $130 for 2″ thickness. Pay by check or PayPal payment request. Turnaround usually 4 to 6 weeks, sometimes quicker. More details about Custom Engraved Leather Springback Manuscript Binders here
---