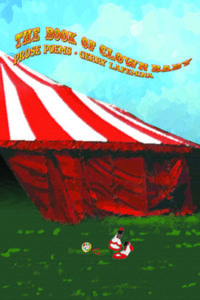 Paper, perfect bound, 60 pp
$14.95 plus s&h
2007, ISBN 0-932412-50-5
Special Pop-up Edition $19.95 plus s&h
This is a double collection of playful and surprisingly moving poems on themes of clowning and circus life. The Book of Clown Baby relates the fantastic character of Clown Baby, occupied by visions of trick horses, parades and high-wire acts, to the common reality where he finds himself. Figures from the Big Time Circus Book captures the wonder of the big top, as imagined and recreated in children's play.
---
Clown Baby Goes to Day Care
by Gerry LaFemina
Because he made them smile, the toddlers smiled when Clown Baby was dropped off. Because he knew nothing yet of betrayal, Clown Baby smiled, too. He loved the songs when people made animal noises. He only wished old McDonald owned an elephant, a camel, trick horses. He also liked Michael, Becky and Todd; The Little Engine that Could; and circle time.After naps the teachers served snacks. Sometimes rectangles of graham crackers and juice; sometimes animal crackers from a box that looked like a circus train. Even though he was too young to eat them, Clown Baby would try to play with those monkeys and bears, knowing it was going to be a good day.
---
Gerry LaFemina is the author of several previous collections of poems, including Zarathustra in Love. He directs the Frostburg Center for Creative Writing at Frostburg State University in Maryland, and he also directs the Controlled Burn Seminar for Young Writers, an annual program held in northern Michigan for 16-20 year old writers.
Listen to Gerry LaFemina read and discuss these poems on WYEP, Pittsburgh. (.mp3, 18.8 MB)
Gerry also has chapbooks published by March Street Press
---