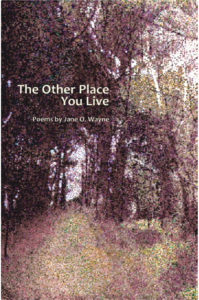 Poetry. Paper, perfect bound, 80 pp.
$14.95 plus s&h
2010, ISBN 978-0932412-973
The Other Place You Live explores "the world's slow unwinding." With intensity of language and a bounty of imagery, she reveals those other places wherever she is in the world. The poems move effortlessly from metaphor to metaphor, gradually building an atmosphere of dark disquiet, then suddenly revealing, as by moonlight, the burnished joy at the heart of things. This is a book of serious riches and profound human pleasures.
---
As It Happens
by Jane O. Wayne
In a wide realm of refusals
where doorknobs fall off
in her hands and trains
pull away without her, the papery years
collapse as neatly as a fan
so she never reaches
the city circled on the map or sees
what the woman sees beyond
the open shoji screen
in the Japanese print.
But what would she change?
Not the marble floors
where she stands outside a painting,
a strange country,
a language she doesn't know.
Nor the careless dream that falls
out of the night, like a coin
from an open purse:
the ship without a wake,
and the people on it no more
than silhouettes, throwing bread crumbs
overboard—
hers and not hers
to understand, not really. She tries,
but can't get in
(blindness of the soul, she thinks),
eyes still closed, and how else
to get back to those streets
on the map she carries
in her heart pocket?
While she slept,
the orange lily folded up like an umbrella,
only drier, final too—
her own garden a place
where she can't tell surprise
from violence.
---
Jane O. Wayne's collection Looking Both Ways (MO Press) received the Devins Award for Poetry, and A Strange Heart (Helicon Editions) received the Marianne Moore Poetry Prize and the Society of Midland Authors Award. From the Night Album was published by Pecan Grove Press in 2007. Her poems have appeared in Poetry, The Iowa Review, American Scholar, Ploughshares, Massachusetts Review, Boulevard, The Cincinnati Review, Bellevue Literary Review, Tar River, Journal of American Medical Association, and Poetry Daily.