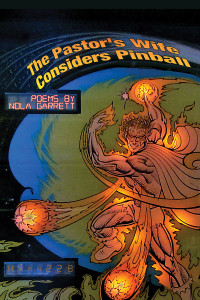 Poetry. Paper, perfect bound, 74 pp
$14.95 plus s&h
2013, ISBN 978-1-936419-16-6
Nola Garrett's 2nd full-length poetry collection, The Pastor's Wife Considers Pinball, meditates on the variations of grace within chaos, creation, time, death, the domestic, games, and literature. In a voice that mixes sadness and humor, sometimes as the I of the author and other times as the pastor's wife, these poems explore the hinge between the authority of the church and the musing laity.
---
"The Pastor's Wife Considers Pinball" reviewed at New Pages
"The Pastor's Wife Considers Pinball" reviewed at The Christian Century
Nola Garrett reads at Hemingway's Poetry Series (Pittsburgh, PA -July 22, 2014)
---
Praise for "The Pastor's Wife Considers Pinball"
The Pastor's Wife, the poet's alter—or altar—ego in Nola Garrett's startling collection, tells her poet-creator "that Nola's dreams are a troupe / of untrained monkeys." But Garrett has in fact trained her dreams well, for the persona who "forces me to write these poems" inspires her to triumphs of craft—her pentameters' suppleness, her free verse's tautness, her sonnets' sneakiness. These technical achievements enable her feats of sympathetic imagination, so a sestina, by beginning every end-word with "y," enacts the tugs of longing that plague and delight Garrett's hero. Constantly the Pastor's Wife wrestles with a God she knows so intimately she can list what he carries in his pockets ("a few centuries' change, a napkin sketch of another garden / that never fades, a Zippo lighter . . , / . . . an elegant key"). The Pastor's Wife Considers Pinball tackles both the sacred and the profane, divine order and worldly chaos, by bringing all Garrett's powers of wit and feeling to the fray. -Jay Rogoff, author of "The Art of Gravity"
The opening poem, "The Pastor's Wife and I," alerts the reader at once to the way the author of this collection divides her focus to acknowledge "the split self," "her feral woman—her woman loitering near the well." Nola Garrett's risky triumph is the way she transcends a potentially chaotic view to achieve the kind of unorthodox order that finally challenges and satisfies—and illuminates.
An unlikely—and yes, chaotic—array of items informs the book from beginning to end: Biblical figures; a great deal of food; the Eucharist; Ted Hughes; a neighbor's cows demonstrating precisely how "shit happens," in a strangely lyrical scene that flirts with blasphemy; angels updated to the present; the belongings of the dead on sale at Goodwill; Yahweh naked in the shower or ordering his "usual liverwurst on rye from Eve's diner."
What the pastor's wife really considers in this engrossing examination of a life is every option she perceives. Shall it be a series of games with no appeal, no guarantee of fairness? Games in which, by the way, God is also a player. Or shall it be acceptance of the limited control she has over her choices, right down to Molly Bloom's "Yes! Yes!" even to the expectation of the inevitable "transparency" we all achieve with death? Read the poems and "consider" for yourself. – Rhina P. Espaillat, author of "Where Horizons Go"
"The Pastor's Wife Considers Pinball: Poems" by Nola Garrett (Mayapple Press). Like the Old Testament patriarch Jacob, poet Nola Garrett wrestles with angels (and demons) in public. This collection of spiritually informed poetry runs the gamut from free to highly structured verse that never skimps on humor or vivid imagery. All poems are good for the soul, but this collection is unusually fine. Tony Norman / Pittsburgh Post-Gazette
---
Game 7

                             Between games 
I saw the soda machine's insides— 
                       its door ajar 
                               for levers and change. 
                                   The soda here tastes lighter, more 
sweetly strange, 
than the soda 
                                              I drink when I go home, 
although the uniformed serviceman installs 
                  the same cans here he stacks on grocery shelves. 

He must forget what he knows 

          like the gynecologist      making love to his wife 
          who glimpses through                her tangled gates 
          her secret garden:         For a few minutes I was alone 
          sitting on a stone bench      between two long hedges 
          of roses.  Pink roses.      I felt the most powerful 
         feeling of peace,           and I knew that death, 
          if it means   absorption        into a reality 
          like the one before me,        might be all right. 

          Sometimes the ball                slows,   drifts 
          like cottonwood snow through an empty nave's 
          open windows       during the funeral of a stranger 
          while next door            a neighbor girl 
          practices her piano,       and you wait each time 
          for the hard place            where she stumbles 
          a little, 
                   then goes on. 
---
Nola Garrett is Faculty Emeriti of Edinboro University of Pennsylvania. She lives in downtown Pittsburgh, PA. Her poems, Macedonian poetry translations, and essays have appeared in Able Muse, Arts & Letters, Christian Century, Christianity and Literature, FIELD, Georgia Review, Imagination and Place, Poet Lore, and Tampa Review. Her chapbook, The Pastor's Wife Considers Pinball, won the 1998 American Poets' Prize and her first book, The Dynamite Maker's Mistress, a collection of 27 variations on the sestina form, was published by David Robert Books in 2009. She has received a Residency at Yaddo, and Scholarships from the West Chester Poetry Conference and the Bread Loaf Writers' Conference.