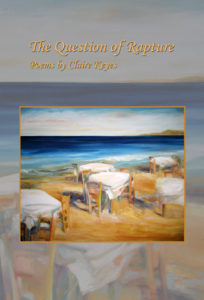 Poetry. Paper, perfect bound, 72 pp.
$14.95 plus s&h
2008, ISBN 978-0932412-690
Imagistic language and unique imagination shape this stunning book. These musical, detailed poems capture the intricacies of Keyes' worlds: her family, childhood, Boston, Key West and even Greece.
---

Nauset Beach, October
by Claire Keyes
How admirable the waters looked,
waves surging in, collapsing on shore
and the two of us strolling by.
It's summer no more though the air is warm,
the sky blue. My lover adores the surge
beneath him, so he strips to his trunks
and flings himself into the surf. How blue
his skin turned and how he shivered
in my arms as I tried to warm him, drawing
my jacket around him. No lips ever seemed
so blue. Passersby on the sand paused
and clucked, noting my fine hands
stroking his shoulders. It's not every day
I'm the madonna, the man on my knees
shivering and blue. After this, I loved him less
and tried to pretend I loved him more.
A man so mad for the ocean might throw himself
into anything and then how much comfort
would I be expected to give? Yet
he was once my blue ocean. I threw myself
into his surge. Blue is the color of chagrin.
Once I held a man unclothed and shivering
on my knees. The sky was blue and Nauset Beach
felt as solid under our foot soles
as the love we wrapped our legs around each night,
so drunk with ourselves that we never noticed
the time like a fine blue wave lifting its head
to see how much longer to shore.
---
Claire Keyes grew up in Boston, Massachusetts, the seventh child in an Irish-Catholic family of eight. Her poems and reviews have appeared in such journals as Valparaiso Review, Calyx, Blueline, and The Women's Review of Books, as well as in several anthologies, including Letters to the World, Poems from the Wom-Po Listserv and Poems of Exotic Places. She is a recipient of a grant in poetry from the Massachusetts Cultural Council and a fellowship from the Wurlitzer Foundation in Taos, New Mexico. Her chapbook, Rising and Falling, won the Foothills Poetry Competition. She lives in Marblehead, Massachusetts with her husband, Jay Moore.