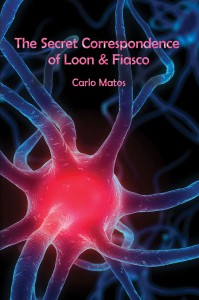 Flash fiction, Novella. Paper, Perfect Bound. 108 pages
2014, ISBN: 978-1-936419-46-3 $15.95 + S&H
Note: You don't have to have a PayPal account in order to use the PayPal button, just a credit card.
---
If you've ever suspected that time doesn't flow as linearly as it pretends to, that it slows down, speeds up and sometimes just goes totally off the rails, then meet Johnny Sundays — the protagonist of The Secret Correspondence of Loon & Fiasco. Johnny flees California's Central Valley when he realizes he's become (un)stuck. He makes his way to Chicago where time inexplicably starts to clack forward again, only to fall impossibly in love with a computer program, a chatbot named ALICE. "Meet me on a heathered mountain," she says one night—and she has him. Meanwhile his estranged wife finds herself suddenly drawn to the island of São Miguel and to the ghost of a girl her powerful sorceress grandmother cursed in her youth. Unsure what awaits her on the island of her ancestors, she draws ever closer to the unspoken something that cleaves them apart even as it draws them towards one another. In this flash-novella you'll find encrypted codes, AI, folk magic, ruminations on sex chat, and what awaits you "at the steps of the crab-wracked and barnacled rock" beneath the heavy Atlantic.
---
Praise for Carlo Matos's work:
Carlo Matos takes a mystical sense of Azorean displacement and spins a delightful cat's-cradle spanning from Fall River to California and featuring the burrito-seeking Johnny and Linda, a teacher in the dying Central Valley. "Fiasco" speaks in binary code to a Loon trying to map out the natural world, only to discover that "When you have no sense of direction…walls are essential to survival." Lizzie Borden is a patron saint, turkey vultures circle, and Groundhog Day is an anthem as Matos's poetry offers a fresh view of the Portuguese-American experience. — Katherine Vaz, author of Saudade
In The Secret Correspondence of Loon and Fiasco, Carlo Matos celebrates "the Lloyd Dobler generation" while simultaneously cataloging its disillusionment. Wildly and refreshingly allusive, this book teaches the "very ancient and powerful biology" that separates the human from the machine. Matos is magician and mathematician as he crafts these micro narratives through the eyes of Johnny Sundays and his chat room alter-ego, Fiasco. Both Fiasco's missives to Loon and his robotically charming repartee with ALICE betray a deep sense of nostalgia, a longing for people and places left behind, for families and homes of origin. — Sara Tracey, author of Some Kind of Shelter
Matos's strange terrain of a book is "a fado full of saudades," where jellybeans signal sadness, and automatons break hearts. As we spiral down the rabbit hole of this offbeat and marvelous manuscript, we encounter fictional and nonfictional notables such as Charlie Brown, Heathcliff, and Lizzie Borden, as well as the charming chatbot ALICE, who continually surprises and seduces. Matos maps out a magical misfit of a novel(la)—a love letter to the technological age—that is absorbing, ingenious, speculative, and poignant. In the words of ALICE: "Meet me on a heathered mountain," and read this book to me, please. — Simone Muench, author of Orange Crush
---
Carlo Matos interviewed at Poets Quarterly
Carlo Matos interviewed on "The Milk and Honey Show"
Carlo Matos interviewed at American Microreviews
The Secret Correspondence of Loon and Fiasco reviewed at American Microreviews
The Secret Correspondence of Loon and Fiasco reviewed at Arsenic Lobster Poetry Journal
The Secret Correspondence of Loon and Fiasco reviewed at PANK
---
From the book…
Shortly after the night they crossed stars, she left for the United States. Years went by and his father had to do his mandatory time in the military. His plan, if he survived Angola, he said, was to head for the United States to find Maria. Fortunately his skill with a trombone was sharper than his skill with a rifle. His people were probably not great gunslingers. Even the ones that went west — their cousins from one island over — probably never skinned a Smoke Wagon in a quick draw. Johnny had never seen a Western where an Azorean strapped on some spurs and aced a bandido or two. They don't even get to be bandidos, even though the word is also theirs. Pirates — some of them had to have been pirates, surrounded as they were by the tough man's ocean . . . Even Doc Holliday — a personal hero of Johnny's — must've felt this, for what dentist could he look to as a role model? When you're a kid, it's hard to choose between Wyatt Earp's impervious handlebar mustache and Doc Holliday's double pistols, but adults knew that being the leader of the gang only looks fun. As the ace gunman, on the other hand, you're free to leave worry in the dust . . . Who cares if in real life Doc was often so drunk he could barely hit the guy charging at him because someone had to be cheating. Johnny ignored the fact that Doc probably shot more innocent bystanders than adversaries. The truth was his hands were fast, his ambitions small, and the blood on his sleeve had nothing to do with teeth.
---
About Carlo Matos
Carlo Matos is an Azorean-American writer, who has published four books of poetry and one book of scholarship. He has also published poems, stories, and essays in Iowa Review, PANK, Another Chicago Magazine, Paper Darts, DIAGRAM, and the Gavea-Brown Book of Portuguese-American Poetry, among many others. His books have been reviewed in such places as Boston Review, Iowa Review, Acoriano Oriental, and Portuguese-American Journal. Carlo has received grants from the Illinois Arts Council and the Fundação Luso-Americana (FLAD). He currently lives in Chicago, IL and teaches at the City Colleges of Chicago and the Rooster Moans Poetry Coop. A former fighter, he now trains and coaches cage fighters and kickboxers. After hours he can be found entertaining clients at the Chicago Poetry Bordello.
---