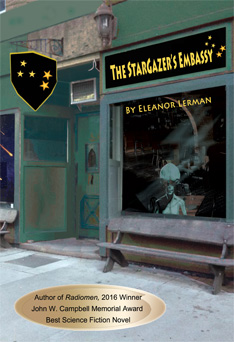 Fiction. Paper. Perfect Bound. 306 pages
2017, ISBN: 978-1-936419-73-9 $18.95 + S&H
Note: You don't have to have a PayPal account in order to use the PayPal button, just a credit card.
---

The Stargazer's Embassy by Eleanor Lerman is available on Kindle here
---
The Stargazer's Embassy by Eleanor Lerman is available on EPUB here
---
The Stargazer's Embassy explores the frightening phenomenon of alien abduction from a different point of view.
In this story, it is the aliens who seem fearful of Julia Glazer, the woman they are desperately trying to contact. Violent and despairing after the murder of the one person she loved, a psychiatrist who was studying abductees, Julia continues to rebuff the aliens until her relationships with others who have met "the things," as she calls them, including a tattoo artist, a strange man who can take photographs with the power of his mind, and an abductee locked up in a mental hospital, force Julia deeper into direct alien contact and a confrontation about what death means to humans and aliens alike.
---
Praise for Eleanor Lerman's The Stargazer's Embassy:
The Stargazer's Embassy, by Eleanor Lerman, is a thrilling reversal of the alien abduction trope…An atypical take on a familiar concept, The Stargazer's Embassy is executed flawlessly. –Foreword Reviews (Starred Review!)
.. Lerman's tense but thoughtful novel explores the mysteries of the psyche as much as those of outer space, and is fitting for any reader who enjoys deep and subtle stories. — Publishers Weekly (Starred Review!)
"…a road trip, alone, in the dark, and without a map"
"…it comes down to the reversal of a universal science fiction theme: this story isn't about what it means to be human but what it means not to be . And that is an idea worth exploring."
The Stargazer's Embassy reviewed in Interzone Magazine (UK) by Barbara Melville (.pdf)
"Great entertainment value aside, one lovely takeaway from The Stargazer's Embassy is that everyone—human or alien—is looking for answers to questions about life that have puzzled scientists, philosophers and countless others for centuries." – New Pages (Valerie Wieland)
In a heady and surprising blend of tropes from both traditional novels and science fiction, the author stirs up a well crafted page-turner about alien-human contacts and abductions centered upon Julia, a young woman with an enigmatic tattoo who may or may not be a reliable narrator. The title refers to a bar in upstate New York christened many years ago by Julia's late mother, a free-spirited hippie who wandered in fields and woods to meetings with mysterious and oddly dressed strangers. Working with themes similar to those in her John W. Campbell award winner Radiomen, Lerman has produced another compelling speculative narrative that raises questions readers will want to ponder long after completing the final chapter. – Starr Smith – NetGalley
I really liked this novel. It's wonderfully eerie, mysterious, captivating and thought-provoking. I got pulled into the story right away and thoroughly enjoyed the read. Highly recommended. – Toby Johnson author of The Myth of the Great Secret: An Appreciation of Joseph Campbell
The Stargazer's Embassy reviewed by Brad Horner
The Stargazer's Embassy reviewed by Katherine's Book Universe
The Stargazer's Embassy reviewed by A Tower of Books
The Stargazer's Embassy reviewed by Readers' Favorite (5 stars, Christian Sia)
Read all reviews of The Stargazer's Embassy on GoodReads
Praise for Eleanor Lerman's Radiomen:
"As Lerman's entertaining second novel winds to its conclusion…i'll leave readers wondering if there might be life out there." – Publishers Weekly
"This philosophical novel reflects on physics and cults, analyzing the nature of mysteries." – Foreword Reviews
"This novel has an inspiring premise and an even better plot. It's a hybrid between conventional novel and science fiction…Nobel Laureate Doris Lessing once said that science fiction had its second-tier reputation only because so few good writers had attempted the form. Eleanor Lerman, an award–winning poet, is such a first-tier writer." – New York Journal of Books
"Eleanor Lerman's odd, compelling novel Radiomen, published by Sag Harbor's The Permanent Press, can lay claim to showing its author's skill as a poet… Radiomen may be science fiction, but it's hardly a predictable or typical example of the genre." – Dan's Papers
---
An excerpt from "The Stargazer's Embassy"
In the hallway, I saw one of the things—the aliens—standing at the foot of the stairs. It was dressed in one of the bizarre costumes they appeared in: this time, a parka trimmed in ratty fake fur that was a gelatinous green color along with a matching pair of slippers. The clothes seemed blurry, as if the thing was in my world but its clothing was still partly in some other place. As the thing came closer, I did what my instinct told me to, what had always saved me in the past: I ran. But where could I go? The answer came to me immediately: there was only one place, and one person I had to talk to. Someone who had lied to me—had been lying to me for a very long time. There was no question now: I had to go back to the Stargazer's Embassy.
---
About Eleanor Lerman
Eleanor Lerman, who lives in New York, is the author of numerous award-winning collections of poetry, short stories, and novels. She is a National Book Award finalist, the recipient of the Lenore Marshall Poetry Prize from the Academy of American Poets, and was awarded a Guggenheim Fellowship as well as a fellowship from the National Endowment for the Arts. In 2016, her novel, Radiomen, was awarded the John W. Campbell Prize for the Best Book of Science Fiction.
Eleanor Lerman's previous Mayapple Press books are Strange Life (2014), Janet Planet (2011), and The Blonde on the Train (2009)
---
More Mayapple Press books by Eleanor Lerman:
Slim Blue Universe (2024)
The Game Café: Stories of New York City in Covid Time (2022)
Watkins Glen (2021)
Strange Life (2014)
Janet Planet (2011)
The Blonde on the Train (2009)