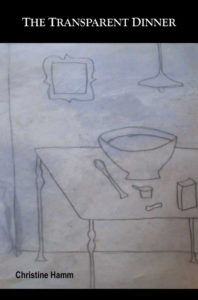 Poetry. Paper, perfect bound, 90 pp
$15.95 plus s&h
2006, ISBN 0-932412-44-0
2006 Pushcart Prize nominee
---
Who has not wished her husband into a cat?
by Christine Hamm
We see how the world enters him without us,
how his eyes focus elsewhere
when we wear our new dress.
Who has not wanted to pluck
from between carburetor and crankshaft
a small white puppy–
and have it be his heart?
If only he could be fixed forever
in the shape of the animal he becomes
inside us —
some mixture of salmon and giraffe,
something as eloquent as a Labrador's sigh,
or as relentlessly solid as the rub of Siamese's cheek.
Animal love is the only love
men allow women.
and it is so short:
only that moment
in which a bear cub murmurs to himself
and begins to suck.
---
Christine Hamm is on the editorial board of several literary journals, including Vernacular. She teaches English at Rutgers University and poetry writing at Women's Studio Center in Queens , NY . Her work has been anthologized in Homewrecker: An Adultery Reader and The Murdering of Our Years: Artists and Activists on Making Ends Meet, both by Soft Skull Press. She has two chapbooks, The Animal Husband, published by Dancing Girl Press, and The Salt Daughter, by Little Poem Press. In 2004, she was nominated for a Pushcart Prize.
For more about her, go to www.christinehamm.org