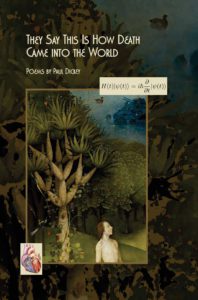 Poetry. Paper, perfect bound, 78 pp.
$14.95 plus s&h
2011, ISBN 978-0932412-997
Paul Dickey's poems demonstrate perfectly how irony and wit can serve as little bits of salvation in a world that may not be entirely against us, but isn't much for us, either. The poems in They Say This Is How Death Came into the World are full of sly twists and turns, surprising nuances, and witty insights. At once profound and mischievous, wicked and accurate, serious and comic, they offer a reflection of reality that appears at first glance to be a fun-house mirror. Whether it's a poem about (or around) Mark Rothko's painting Yellow Band or a prose poem about "Mowing the Lawn" that pauses with Husserl's phenomenology, Dickey's poetry is grounded in a recognition that, to quote Sherwood Anderson, "each truth [is] a composite of a great many vague thoughts," all equally beautiful and disturbing, somber and happy.
---
Images Of
by Paul Dickey
My Wife's Image Of Me and My Image Of Myself met for a drink and to have a heart to heart. We were going to get things ironed out. But at the club, we bumped into my lovers, My Image Of Her and Her Image Of Herself, who surely were not expecting to see us. They were with their boyfriends, Her Image Of Him and His Image Of Himself. His Image Of Himself said something rude to My Image Of Myself and thus seemed to be in cahoots with My Wife's Image Of Me. My Image Of Her seemed to be embarrassed and ashamed of My Image Of Myself and then she went home with Her Image Of Me. His Image Of Her walked in the door at that time and wanted to have it out with anyone who wanted to have it out with him. The only one that did was My Image Of Her. My wife and I arrived shortly thereafter but left right away because of all the commotion. If at all possible, I particularly wanted to avoid running into My Wife's Image of Herself.
---
In the 1970s, Paul Dickey published poetry in Kansas Quarterly, Karamu, Quartet, and Nimrod. After taking a hiatus while concentrating on family and a career in data processing, Dickey started to publish again in 2003. Since then, he has published poetry and fiction in about 100 literary journals, both print and online. His first poetry chapbook What Wisconsin Took was published by the Parallel Press in 2006. His poetry has been anthologized in An Introduction to the Prose Poem (Firewheel Editions, 2009) and Nebraska Presence: An Anthology of Poetry (Backwaters Press, 2007).
Dickey has an MA in the History and Philosophy of Science from Indiana University, Bloomington, and he studied writing poetry and fiction at Wichita State University in the 1970s, primarily with Bienvenido Santos. He is married and has three adult children, one grandson, and one granddaughter. Retired from his data processing career, he now teaches philosophy in Omaha, Nebraska at Metropolitan Community College.