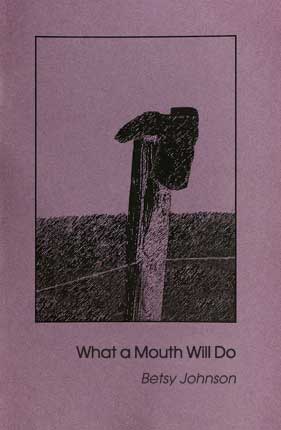 Paper, saddlestitched, 36 pp
$8.50 plus s&h
2004 , ISBN 0-932412-29-7
Betsy Johnson's poems speak about being on the edge, about being on the border of loving and not-loving, of faith and no-faith, of acceptance and resistance.
---
Psalm: my daughter's drawings
by Betsy Johnson
Arise
O people
of seventy legs
and afflicted hair.
Lift up
your succulent
bodies.
How great
are your hands
(if they can be found)
and under prosperous eyes
your mouths
stand flat and silent
as altars.
Sometimes flowers
and seven blades
of grass reign
but how often
you are overtaken
by a wilderness
of white:
that absence
of firmament
most feared
in dreams.
---
Betsy Johnson grew up in Minnesota. In addition to writing, she teaches at Eastern Illinois University and preaches nearly every Sunday at two small churches.