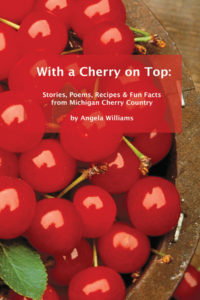 Paper, perfect bound, 130 pp
$17.95 plus s&h
2006, ISBN 0-932412-41-6
2006 Pushcart Prize nominee
---
With a Cherry on Top: Stories, Poems, Recipes & Fun Facts from Michigan Cherry Country
by Angela Williams
Do you know: How maraschinos are made? Why there aren't any pitless cherries? What makes a great cherry margarita?
Cherries are to Northern Michigan what oranges are to Florida! In this highly personal view of Michigan's cherry industry, Angela Williams cooks up a delightful confection of reminiscences, poems, recipes, facts and photos. Find out how cherry growing got started in the state and which Michigan cultural traditions were spawned by the cherry industry.
Learn what it's like to work through a "pack." Discover all the things you can do with cherry pits. Get official pit-spitting contest rules. And try out mouth-watering recipes for the best cherry pie, a zingy relish of ginger-spiced cherries, and the festive cherry chocolate martini.
---
Author Angela Williams has worked in the cherry industry since 1997. She studied theatre and creative writing at Western Michigan University. Poetry is her usual genre, but bridging two parts of her life became possible with this project.
In addition to Williams, the book features poetry, memoirs and fiction by Michigan writers Anne-Marie Oomen, Norm Wheeler, Conrad Hilberry, Jackie Bartley, Linda Nemec Foster, Gerry LaFemina, David Sosnowski, Mary Ann Samyn and others.