---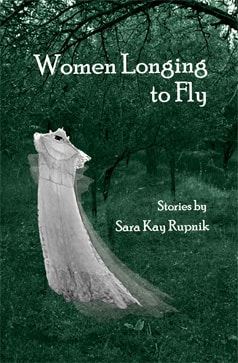 Prose. Paper, Perfect Bound. 106 pages
2015, ISBN: 978-1-936419-50-0
$15.95 & S+H

Women Longing to Fly is also available on Kindle
---
From Lila, who buys a handgun to ease her broken heart, to Maura, who takes a stranger to a motel, Women Longing to Fly contains stories of women on the brink. There is the Yankee-born mother trying to raise Southern children, and the daughter whose sister disappeared after the Kent State tragedy. There is Emily, who confronts her ex-boyfriend at his destination wedding, and Brenda, who comprehends her husband's thoughts and desires as his mind fades into dementia. There is Emma, who navigates by sound, and Margaret, who takes to her bed to wait for Spring, and Lyda, who cannot part with anything. These are women who realize they must accept the past, face the present, or flee.
---
Praise for Sara Kay Rupnik's work:
In prose deft and precise, with a knack for unspooling decades in a single sentence, Sara Kay Rupnik pierces into the lives of her characters, all of whom long to fly from the loss, betrayal, misunderstandings or missed chances that have fractured their wings. But when the wind blows in from strange, sometimes dangerous, always surprising directions, threatening to tear them from their perches, these women draw their breath and leap. – Nancy Jensen, author of The Sisters
Even when not in flight, these women aren't grounded. They hear what others can't, do what most wouldn't–off-kilter, yes, but achingly real. Sara Kay Rupnik has her fingers on the pulse of her characters and on a mysterious dial that she tunes unerringly to unexpected and rapturous frequencies. – Diane Lefer, author of California Transit and Confessions of a Carnivore
Sara Kay Rupnik's story collection, Women Longing to Fly, is aptly named and held me rapt from page one. Quiet and wry, funny and filled with hard-won wisdom, these stories speak out for women everywhere. Highly recommended. Jo-Ann Mapson, bestselling author of Solomon's Oak, Finding Casey, and Owen's Daughter.
The women in Sara Kay Rupnik's new story collection have the strength and dignity to dare to be themselves, though the battle is never easy, the happy ending never preordained. In story after story, Women Longing to Fly gives us an author whose empathy and talent helps us better understand the human heart. – W. D. Wetherell, author of A Century of November
---
A brief piece about Sara in GoEirie (Liz Allen)
---
Excerpt from Fly.
Who would have guessed that I, the one claiming to have all her faculties, would be the one to forget? The one to so easily confuse a stellar verb with a commonplace noun? If Kevin and I had to live our lives all over again, I tell myself now, we would be more daring. We would cut classes and start at dawn, out on the dew-slippery quad. We would try out the Coliseum, the Parthenon, the Pyramid, and Stonehenge. This time around, we would leave our daughter home with my mother or Kevin's father or a pierced, tattooed babysitter. We would travel to unconventional places, places accessible by ferry or donkey or zipline, carrying only what would fit on our backs.
The real disgrace, the real disaster, is never the one you can imagine. If we'd known that tidbit forty years ago, we would have made sex in public places an art form.
---
About Sara Kay Rupnik
Sara Kay Rupnik is a native of Northwestern Pennsylvania and now spends her time in Coastal Georgia, West Cork, Ireland, and Bexley, Ohio. She holds a M.F.A. in Writing from Vermont College and is co-founder of Around the Block Writers Collaborative. Her fiction, nominated for a Pushcart Prize and short-listed for the 2010 Sean O'Faolain Short Story Prize, appears in literary journals in the U.S. and the U.K. She teaches creative writing for the Jekyll Island Arts Association.
---