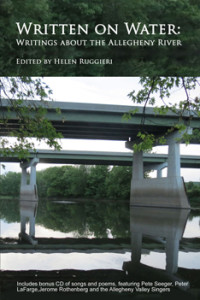 Written On Water: Writings About the Allegheny River will be launched today, Thursday October 24th, at a free public event in Olean NY. The event starts at 7pm in the Art Gallery of the Olean Public Library, 134 N. 2nd Street, Olean, New York 14760
The remarkable Allegany River Indian Dancers will perform. They are just one of many fascinating artists who contributed to the bonus CD included in the book. In addition, several authors who contributed to the anthology will read from their works. Judith Kerman, Mayapple Press publisher, and Linda Underhill, co-editor of "Written On Water" will also be in attendance. We'd love to see you there and talk Allegheny writing!
Of course, there will also be books for sale. And, yes, we cheerfully accept credit cards.
Thanks to the Olean Public Library for their kindness.