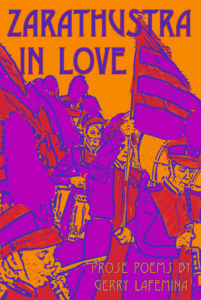 Paper, perfect bound, 44 pp
$8.50 plus s&h
2000, ISBN 0-932412-18-1
Taking on everything from Persian prophets to Bigfoot, Jim Nabors to UFO's, Berlitz tapes to the George Forman grill, these prose-poems elevate the notion of unpredictability and delight.
Early Experiments in Ingesting Fire
by Gerry LaFemina
I was born in the month of multiple fires and grew up watching my father before the crowds: his neck arced back, hair dangling, veins as if embossed on the tender flesh, and his mouth wide. Above him the baton, its small dollop of blue flame descending until his lips closed around it. I started with marshmallows that got too close to the coals; held them on their sticks like my father. The first touch of the flame like a lover's kiss- not gentle, dangerous: the way my father said love ought to be after I asked him about my mother's old leotards which hung in his closet like snake skins. The posters of her walking the long wire haunted the small rooms of our bungalow. I knew why he gave it up- reduced to minor gigs at county fairs and festivals; knew, too, why I lit matches to put in my mouth. I liked the way schoolyard girls smiled and gasped at the same time. Their boyfriends said I was a wuss, called me a freak (which was true), and lit up sheets of loose leaf for me to eat. I blew smoke in their eyes, all of them, and took such inconsequential fire into my mouth . . . . We cremated my mother- no surprise; I watched my father on the loveseat every night for weeks afterward, raking his fingers through the ash. Some nights, now, I light up shots at the bar, watch the alcohol's brilliant combustion, before taking the liquid deep into my belly. I drink for free this way. A waitress once asked me what I would do if something ever went wrong. I said, stop, drop and roll. I say it to the woman I love too. Some days I go home and she kisses me hard, but I still can't feel her tongue; some days she looks just like my mother though- the way her hair nabs the light as if glittered, the way she walks, as if unsure of the ground itself- and I feel, for a brief second, something melting.
---
Gerry LaFemina is the author of several previous collections of poems, including The Book of Clown Baby/Figures from the Big Time Circus Book. He directs the Frostburg Center for Creative Writing at Frostburg State University in Maryland, and he also directs the Controlled Burn Seminar for Young Writers, an annual program held in northern Michigan for 16-20 year old writers.
Gerry also has chapbooks published by March Street Press