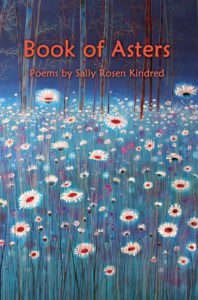 Poetry. Paper, Perfect Bound. 62 pages
2014, ISBN: 978-1-936419-34-0 $14.95 plus S&H
---
The poems in Kindred's second full-length collection look to daisies, goldenrods, sunflowers, ironweeds—all the members of the family asteraceae, or aster family of flowers—to explore family and memory, and to search the tender edges of marriage, infertility, and motherhood. Like the children in "Noon on Gravel Drive" setting a leaf on fire, these poems "circle in/ for dance or witness" upon a neighborhood of mothers and fathers, daughters and sons, but also haunted alders, dolls and feathers, Sirens and mean angels. Kindred uses the language of flowers to reveal a rich terrain of survival and desire, inviting the reader to delight in its complex and beautiful images.
---
Sally Rosen Kindred: The Chapbook Interview (www.lauramadelinewiseman.com)
Book of Asters by Sally Rosen Kindred reviewed by Barn Owl Review
Book of Asters by Sally Rosen Kindred reviewed in Poets Quartely
---
Praise for Sally Rosen Kindred's work:
The linguistic blooms in Book of Asters are like the breathtaking visual turns of a kaleidoscope—dazzling, unexpected, and unnerving. Sally Rosen Kindred is the kind of poet Shelley meant when he called poets the unacknowledged legislators of the world. A language this lush and an imagination this inventive can remake us as surely as Kindred's narrators are remade, joy by joy, grief by grief. Kindred is a poet willing to follow her muse and name her vision. Book of Asters is a vivid, astonishing collection. —Kathryn Kirkpatrick
Sally Rosen Kindred cites "star" as Greek root of "aster," and these poems themselves are star-flowers. Asters, alders, dandelions, children, animals, a worm, soldiers, other numinous existences, reply with hidden essences to her questing inwardness, as she names them into our recognitions. These poems fuse concept and sound in a manner now unusual, so that obscured humble things appear nakedly valuable to our eyes and to our spirits. In her wise innocence, the world stands brightly recreated, splendid and difficult and painful to behold, in the noontime sunlight of her craft. —James Applewhite
Sally Rosen Kindred has a gift for creating poems I wish I'd written. Here is a garden of witness, of forgetting, of memory and music and love's bright blare. Aster as metaphor, aster as ghost—bouquets of common weeds and wildflowers haunt us in these poems, and teach us to lean toward their mysterious light, to blossom with their stories, and to grow—bruised, but fed by their songs. —Meg Kearney
---
When They Painted My Room Yellow
At five I feared a city of sunflowers.
I feared their appetites, their fevers
and sleeps. I feared those gold blooms pushing
over the levees and crowding
the crumbling lanes. I feared
the population explosion, masses
of ratcheting petals, their singe of joys
blistering into ruin. I knew
I could not feed them. I feared
sunflower Armageddon, stems dragging
their hungry disks, piling their dead
in brown-veined tents. Ray flowers and seed flowers
hurling themselves into traffic.
I feared them tunneling into my ribs
and charging through my bones:
they wanted me for the sun. They flooded
asphalt and air, choking off
my dark breath, my own cold season.
Now I want to bleed their towers and streets.
I want to be the heat spirals
that shower their centers
with wet teeth. I want to live
in that hive: fold my body
into all their golden angles.
I want to pull those wild throngs
to my lips and say
the name of my survival
is sunflower
as if I knew myself
gold, a feast of grief ribbons.
---
About Sally Rosen Kindred
Sally Rosen Kindred is the author of a previous book of poems, No Eden (Mayapple Press, 2011), and two chapbooks, Garnet Lanterns (2006), winner of the Anabiosis Press Prize, and Darling Hands, Darling Tongue (Hyacinth Girl Press, 2013). She has received fellowships from the Maryland State Arts Council and the Virginia Center for Creative Arts. Her poems have appeared in Quarterly West, Blackbird, Verse Daily, Hunger Mountain, and other journals. A native of North Carolina, she lives in Maryland.
---
The front cover of Sally Rosen Kindred's "Book of Asters" is based on "Wild Daisies Under a Midnight Sky" by Jo Starkey. You can find more of her art at her own website: www.interiorimages.co.uk
---