Dates for the 2021 Retreat will be announced in due course
Please complete and submit the form below as early as possible to help us assess interest and complete our planning. Fill in requested content in each box. When you click "Submit" an email message will be sent to the program coordinator. Items with asterisks are required fields.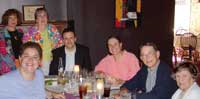 New applicants: We'll get back to you soon after we get your application. Please do not send any money until we tell you that you are accepted into the workshop
---
Please note: Some browsers may warn you about submitting information over an insecure form. Please ignore this warning. We collect only the information we need and we do not share with anyone else. Please get in touch if this is unclear.

---
If you would like to attend Woodstock Mayapple Writers' Retreat but do not meet the criteria indicated above, please list several major publications in the appropriate box, including publisher and date, and send samples of your work to jbkerman@mayapplepress.com (Maximum 5 poems or one short prose work, embedded in your email message or attached as .RTF file.) Please indicate "Woodstock Writers' Retreat Samples" in the SUBJECT line of the message.








Woodstock Mayapple Writers' Retreat (Main Page) – Woodstock Mayapple Writers' Retreat Details – Woodstock Mayapple Writers' Retreat Application Form and Payment – Past Retreats