The 2020 Retreat will take place VIRTUALLY from 10 AM Eastern on Wednesday, July 22 and continue until Tuesday, July 28
Dear fellow scribblers,
My apologies for waiting so long to send you news about the 2020 Woodstock Mayapple Writers Retreat. For obvious reasons, we can't meet face to face at our beloved Villetta Inn on the mountain above Woodstock. However, Zoom provides, or at least should offer a decent facsimile. This is our 18th year!
Unlike some other workshops, I can't see big prices for a virtual experience. I'm asking $100, to help support Mayapple Press and pay for my Zoom Pro subscription. If this is a hardship for you, please let us know. DEADLINE: midnight, July 16, to register and pay the fee.
The format will be, as always, small daily workshop meetings, 3-5 people working in the same genre. Certainly poetry and poetry manuscript workshops, as always, and prose or mixed genre if desired.
There is no arrival night, so we will begin at 10 AM Eastern on Wednesday, July 22 and continue until Tuesday, July 28. If a group unanimously wants to change to a different time, we can accommodate that, but please remember that some people will want time to write. After a brief Zoom session to log everyone in, I will set up "breakout rooms" within my Zoom account so you have as much time as you need. (Free Zoom accounts limit you to 40 minutes.) If you need coaching on Zoom, please contact me. Technical note: Zoom breakout meetings will not work on a Chromebook. If you do not know what this means, then you don't have to worry)
Please complete and submit the form below as early as possible to help us assess interest and complete our planning. Fill in requested content in each box. When you click "Submit" an email message will be sent to the program coordinator. Items with asterisks are required fields.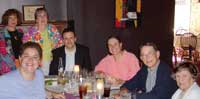 New applicants: We'll get back to you soon after we get your application. Please do not send any money until we tell you that you are accepted into the workshop
---
---
If you would like to attend Woodstock Mayapple Writers' Retreat but do not meet the criteria indicated above, please list several major publications in the appropriate box, including publisher and date, and send samples of your work to jbkerman@mayapplepress.com (Maximum 5 poems or one short prose work, embedded in your email message or attached as .RTF file.) Please indicate "Woodstock Writers' Retreat Samples" in the SUBJECT line of the message.

Please use this button to pay $100 for the VIRTUAL Woodstock Mayapple Writers' Retreat
Note: You do not have to have a PayPal account to use this button, just a credit card
Checks should be made out to Mayapple Press and sent to Mayapple Press, 362 Chestnut Hill Road, Woodstock, NY 12498. Be sure to note "Mayapple Woodstock Writers' Retreat" in the Memo section of your check. Please do not send checks to Judith Kerman personally. To use Visa, Master Card or Discover, please call 845-684-5519
New applicants: We'll get back to you soon after we get your application. Please do not send any money until we tell you that you are accepted into the workshop






Woodstock Mayapple Writers' Retreat (Main Page) – Woodstock Mayapple Writers' Retreat Details – Woodstock Mayapple Writers' Retreat Application Form and Payment – Past Retreats