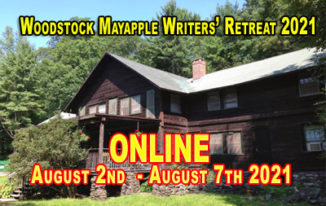 The 2021 Woodstock Mayapple Writers' Retreat will take place online from Monday August 2nd to Saturday August 7th

Go straight to Application Form – – Go straight to Retreat Payment
Dear Fellow Scribblers,
My apologies for the late news about the 2021 Woodstock Mayapple Writers Retreat. I hoped things would improve enough for a face-to- face retreat at our beloved Villetta Inn on Mount Guardian, Woodstock. But almost everyone from last year prefers to stay on Zoom. Last year, we found that Zoom offered a decent facsimile of in-person workshops, resulting in three ongoing Zoom workshop groups. This is our 19th year!
Writers with strong professional publications and experience in workshops or teaching creative writing may apply. An application form is attached, Former attendees and Mayapple authors, please use the form to update your contact information. And please spread the word to strong writers you know!
Again this year, the registration fee is $100 per person to help support Mayapple Press and our Zoom Pro subscription. Let me know if that's a hardship. DEADLINE: midnight, July 16, to register and pay the fee. But the sooner you let us know you're coming, the better.
The format will be, as always, small daily workshop meetings, 3-5 people working in the same genre, 2.5 hours per day. We will offer poetry workshops, as always, and poetry manuscript, prose or mixed genre groups if at least 3 people ask for them. We work on existing projects, not group prompts.
This year, we will begin at 11 AM on Monday, August 2 and meet all 6 days, ending about 1:30 p.m. Saturday, August 7. I hope these times will accommodate people in different time zones.
After a brief Zoom session together every day as people log in, I will set up a "breakout room" for each group. If a group unanimously wants to meet at a different time, they can, but please allow writing time for members. The main Zoom will always be available, but I have to be there to open breakout rooms if two groups want to meet at the same time, so please let me know if your group wants to change
As always, we will have evening public readings, maximum 5 people at 15-20 minutes each, streaming to the general public and advertised. I will create the workshop groups and plan the readings as soon as we have full enrollment, ideally by July10. Please send a brief bio to use for introductions and publicity.
If you know who you'd like to workshop with, please let me know ASAP. I will introduce group members to each other by email. If you are in one of our ongoing groups, please let me know if you'd like to be with the same people or mix it up. I will try to set up all groups to include at least one person experienced in our format.
Poetry manuscripts should be emailed to others in the manuscript workshop no later than Wednesday, July 28. Other groups may send work to each other ahead, especially prose pieces, but poets often send new pieces the night before the next meeting.
I hope to "see" you soon!
Judy
Please complete and submit the form below as early as possible to help us assess interest and complete our planning. Fill in requested content in each box. When you click "Submit" an email message will be sent to the program coordinator. Items with asterisks are required fields.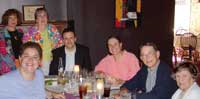 New applicants: We'll get back to you soon after we get your application. Please do not send any money until we tell you that you are accepted into the workshop
---
Please note: Some browsers may warn you about submitting information over an insecure form. Please ignore this warning. We collect only the information we need and we do not share with anyone else. Please get in touch if this is unclear.

---
If you would like to attend Woodstock Mayapple Writers' Retreat but do not meet the criteria indicated above, please list several major publications in the appropriate box, including publisher and date, and send samples of your work to jbkerman@mayapplepress.com (Maximum 5 poems or one short prose work, embedded in your email message or attached as .RTF file.) Please indicate "Woodstock Writers' Retreat Samples" in the SUBJECT line of the message.

Please use this button to pay $100 for the VIRTUAL Woodstock Mayapple Writers' Retreat
Note: You do not have to have a PayPal account to use this button, just a credit card
Checks should be made out to Mayapple Press and sent to Mayapple Press, 362 Chestnut Hill Road, Woodstock, NY 12498. Be sure to note "Mayapple Woodstock Writers' Retreat" in the Memo section of your check. Please do not send checks to Judith Kerman personally. To use Visa, Master Card or Discover, please call 845-684-5519
New applicants: We'll get back to you soon after we get your application. Please do not send any money until we tell you that you are accepted into the workshop


Woodstock Mayapple Writers' Retreat (Main Page) – Woodstock Mayapple Writers' Retreat Details – Woodstock Mayapple Writers' Retreat Application Form and Payment – Past Retreats