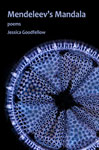 Poetry. Paper, Perfect Bound. 100 pages
2015, ISBN: 978-1-936419-49-4
$15.95 + S&H $13.95 <<––– SPECIAL ADVANCE PRE-ORDER PRICE!
This book will be published On or about February 1st, 2015. We'll send your copy as soon as we have finished books.
Ship to Japan:


Ship to USA:


Note: You don't have to have a PayPal account in order to use the PayPal button, just a credit card.
---
Mendeleev's
……. Read more about Mendeleev's Mandala – Jessica Goodfellow