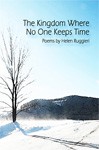 Poetry. Paper, Perfect Bound. 80 pages
2015, ISBN: 978-1-936419-55-5
$15.95 $13.29 + S&H <<== SPECIAL ADVANCE PRE-ORDER PRICING!
Note: You don't have to have a PayPal account in order to use the PayPal button, just a credit card.
---
This book is about loss – parents, lovers, friends, pets, all those whose absence is felt strongly. Loss is approached through myth, through despair, through sensory detail like the empty hollow in the bed, or from the viewpoint of the shoes abandoned in the closet.
Twenty-five years ago Ruggieri wrote "no
……. Read more about The Kingdom Where No One Keeps Time – Helen Ruggieri