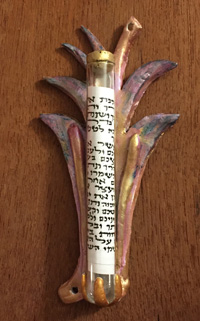 Judith Kerman creates a limited quantity of unique hand-made Judaica.
Shown on this page are "Shekinah" mezuzot, crafted of polymer clay and glass.  (The scrolls included are not kosher.)
Also available: tzitzit kits, mezuzot made of crocheted copper wire and glass, knitted and crocheted kippot/yarmulkahs, hand-painted silk tallits. For more information, contact jbkerman@mayapplepress.com.