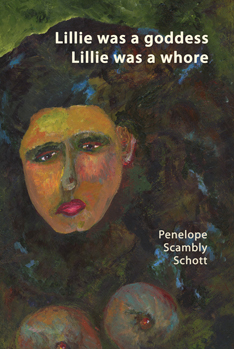 Poetry. Paper, Perfect Bound. 90 pages
$15.95 plus S&H
2013, ISBN 978-1-936419-25-8
A serious treatise on sacred sex. A history of prostitution. A chronological-geographical-psychological survey of contractual copulation. The uncensored autobiography of an articulate whore. The innate and irreverent humor of humping. How women survive. These are the stories told in this series of connected poems.
Lillie is Lilith transmuted through the centuries. From the temples of ancient Babylonia to the red light districts of the old American West to 82nd Avenue in modern Portland, Oregon, she satisfies men's deepest prayers.
At the center of this book is a clever young woman named Lillie who does her own gold rush to California. She stays in California as long as she is fresh and beautiful enough to work at the top parlor houses of San Francisco. Afraid of being consigned to the cheaper, less elegant brothels, she decides to move on—and move she does. Lillie takes the reader on a revealing tour of the whorehouses of the Northwest including those on wheels.
Surrounding the story of Lillie are two other sections that deal with Lillie's sisters in the trade, both in the distant past when the temple prostitutes were stand-ins for the Great Mother and in the contemporary world where community college student Lilliana supplements her Starbucks wages by advertising her services on craigslist.
This exploration of prostitution is open-minded, compassionate, sometimes hilarious, and always matter of fact. It is like nothing else you have ever read.
---
Lillie Was a Goddess, Lillie was a Whore reviewed at Rattle.com
Lillie Was a Goddess, Lillie Was a Whore reviewed at Your Impossible Voice
Lillie Was a Goddess, Lillie Was a Whore reviewed at Verse Wisconsin
---
Praise for "Lillie was a Goddess, Lillie was a Whore"
Penelope Scambly Schott's Lillie Was a Goddess, Lillie Was a Whore is an unsparing poetic overview of the so-called oldest profession —from human beginnings when sex was "our first sacrament and blessing," and woman was the source of creation; to more recent eras when "girls and parts of girls, are unpeople," and onto woman is projected all the shame and blame of male sexual dependency. The character of Lillie is a sort of perennial picaresque heroine, morphing across millennia and cultures, from temple goddess to courtesan to high-class harlot working the parlor houses of Gold Rush San Francisco and Portland, Oregon —where she settles down and finally attains a well-deserved retirement! Lillie is a survivor whose energy and resourcefulness keep her on the move, always a step ahead of despair; and her cynicism about men, as well as the social system that has jiggered her fate, is laced with humor and delivered with bawdy inventiveness. – Carolyne Wright, author of Seasons of Mangoes & Brainfire and Mania Klepto: the Book of Eulene
Hilarious, sexy, classy, clever, fun, shocking, heartbreaking, historical, geographical, linguistic, but it's all about money and male "need." Being pure, Lillie hasn't desire, she's a goddess, a whore. ("When I first felt desire,/I thought I was getting sick.") Babylonia, San Francisco, Japan, Portland, the eastern desert, the lay of the land. "Never let anyone tell you it isn't about survival" Penelope Scambly Schott has written an enlightening, horrifying, at the same time entertaining, very important book. – Sharon Doubiago, South America Mi Hija, Love on the Streets, My Father's Love I, II and Hard Country
---
If You Want to Make the Money,
You Gotta Go Where They're At
This new madam likes me
because I'm willing to travel.
But who knew
we would always be moving?
I'm not joking.
We rode all the way up to the Yukon
where a miner dusted
my whole body with gold.
Afterward,
I shook out my sheet and hair
carefully over the bar
so the saloon keeper
could get out his scales
and weigh the gold dust.
Hey, girls, trust me:
travel pays.
---
Penelope Scambly Schott, author of a novel and several books of poetry, was awarded four New Jersey arts fellowships before moving to Oregon where her verse biography A is for Anne: Mistress Hutchinson Disturbs the Commonwealth received an Oregon Book Award for Poetry. Individual poems have appeared in APR, Georgia Review, Nimrod, and elsewhere.
Penelope has enjoyed fellowships at the Fine Arts Work Center in Provincetown, Massachusetts, the Vermont Studio Center in Johnson, Vermont, and the Wurlitzer Foundation in Taos, New Mexico
Professionally, she has sold cosmetics at Macy's in Herald Square, made donuts at Scrumpy's cider mill, taken care of old people as a certified home health aide, worked as an artist's model, and – as punishment for her Ph.D. in Late Medieval English literature – spent years and years teaching college literature and creative writing courses.
Penelope lives with her husband and their dog in Portland, Oregon where she hosts a series of poetry salons – although she and the dog have an alternate life during which they spend part of each week in the small wheat-growing town of Dufur where she teaches an annual poetry workshop. From her Dufur house, Penelope can see the east side of Mount Hood, the high school football scoreboard, and the Milky Way.