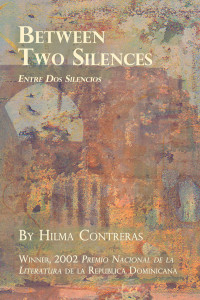 Mayapple Press is excited to announce a new publishing project.
"Between Two Silences / Entre Dos Silencios" is a book of remarkable short stories by the great Dominican writer Hilma Contreras. These short stories (some very short) are often mysterious and quirky, with a shimmer of heat and fire, a glisten of water and a frisson which comes from not quite knowing where you are or what's about to happen. Many stories have a sly humor and surprise endings. The reader is sometimes left with a feeling of regret, sometimes a feeling of elation and often a sense of something just out of reach.
With the help of Kickstarter, and in honor of her Centennial, Mayapple Press is proud to publish the first United States edition of "Between Two Silences / Entre Dos Silencios". This collection of sixteen stories reflects the original contents and order of the 1987 book, originally published in Santo Domingo by Editora Taller. This bilingual Spanish/English edition will have the Spanish on one page and the English on the facing page, making the translation come alive. For some lucky Kickstarter funders there will be a Special Centennial Limited Edition hardcover edition.
Hilma Contreras Castillo (1913-2006) was the first woman ever to win the Premio Nacional de la Literatura de la Republica Dominicana (National Prize in Literature of the Dominican Republic), the highest prize in Dominican literature, in 2002. Educated in Europe, Contreras often set her tales in a mysterious landscape, neither and both European and Caribbean. The XVI Feria Internacional del Libro (16th International Festival of the Book) Santo Domingo 2013 celebrated her Centennial.
Our Kickstarter project is here: http://www.kickstarter.com/projects/952853379/between-two-silences-entre-dos-silencios-by-hilma
There, you can see a video about Hilma and more details about our goal. There are three levels of funding, and each comes with different rewards. Getting started as a funder on Kickstarter is really easy, and funds are not withdrawn unless the funding goal is met. Our goal is $1000. Kickstarter funding will allow us to produce this book and promote it to libraries, Latino organizations and Latin American Studies programs at universities and colleges. But that's not the only audience. We expect that these stories will spark the imagination of all curious and adventurous readers everywhere.