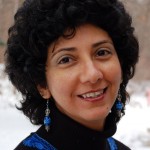 Zilka Joseph, author of Lands I Live In, appeared on the pilot episode of "The Living Room" on Michigan Radio. From the show's website:
The Living Room is a one hour exploration of a theme through stories, song, and writing.

In this episode, host, storyteller, and songwriter Allison Downey takes a look at how stories of migrations are interwoven into the lives of Michigan residents.
You can get the mp3 audio from Michigan Radio's space at NPR. Zilka's segment starts at the 43:55 mark.
Michigan Radio: Living Room : Pilot
If the streamer app is not working or if you do not use/see Flash content, try pasting the following kink into the browser or media player of your choice: