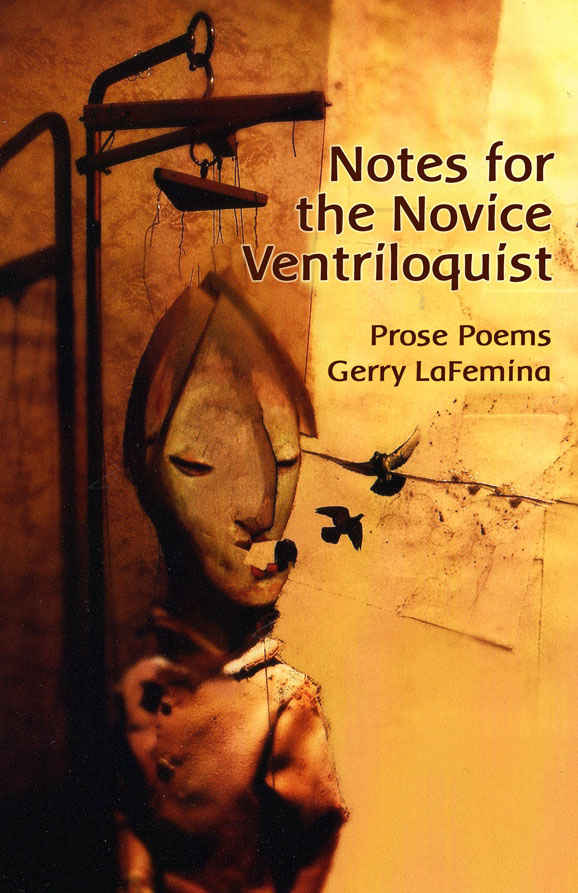 Poetry. Paper, Perfect Bound. 78 pages
2013, ISBN: 978-1-936419-28-9 $15.95
---
Perhaps it is best to picture this book as a gallery space, for in Notes for the Novice Ventriloquist, Gerry LaFemina curates an exhibit of the curious and quirky. Surrealist art, big foot, magic shows, mythological creatures, love in all its manifestations hang side by side on these pages. Each prose poem is a painted canvas in which the real and what-may-be-real are framed together. Sometimes laugh-till-you-cry funny, sometimes heartbreaking, always fantastic in the truest sense, these modern fables posit the endless possibilities of both the imagination and the ordinary world.
---
Praise for "Notes for the Novice Ventriloquist"
What joy. What uncompromised and uncomplicated pleasure without the pretense of the huzzah," Lafemina says in his prose poem, "The Exuberance of a Well-Timed Yay." That's how I feel while reading Notes for the Novice Ventriloquist. In this volume LaFemina weds old-school existential profundity with contemporary wit, and, in the process, establishes himself as one of the best prose poets writing today.
– Peter Johnson
The lonely characters that yearn for others' shadows that inhabit LaFemina's world escape from the dangerously mundane by zeroing in on the extraordinary details they overhear as these shadows relate their nostalgia for an ordinary life far out of the spotlight.
– Gian Lombardo
---
Emily Roebling's Rooster
for Liv Lansdale
Mornings at her husband's bedside, she studied stress analysis and calculated catenary curves, then made the chicken soup she served as he convalesced. Afternoons, he awaited her return as she shuttled between Bridge and apartment, he almost voyeuristic with his window view and binoculars. Meanwhile, the workmen bricked the towers, unspooled cable, while politicians and reporters bickered. Hours each day she played courier, carrying the news, each snafu, the blueprint changes. She relayed each case of caisson disease, and later, each fall into the East River. And when the Bridge was complete, the Brooklyn Eagle photographers came to see Mrs. Roebling, her carriage first to cross—her husband left behind, still watching—a Brooklyn rooster on her lap. That cockerel couldn't know it had been saved from the soup kettle, from special sauce, from cockfights, only to be lost to history and to the pages of an unpublished picture book. It's a love story between two horses, one from Manhattan and one a Brooklynite, counting down till the bridge's completion. See: there's the rooster in her arms. We can almost hear it crowing to let us know it was with her that day, before the official opening, after all the dissent had been silenced, when pigeons had already nested on new perches. Gulls laughed as they always do, lurched downward toward the river, then lifted themselves cloud-bound again. Young August Belmont, seeing what could be done, began to dream of the fantastic, of trains that run underground.
---
About the Author
Poet, prose poet, fiction writer, literary arts activist, professor, editor and musician, Gerry LaFemina is the author of eleven books. He's received fellowships from the Irving Gilmore Emerging Artists Fund and the Michigan Council for the Arts and Cultural Affairs, awards from the University System of Maryland Board of Regents and the Bordighera Foundation as well as a Pushcart Prize. He directs the Frostburg Center for Creative Writing at Frostburg State University where he is an Associate Professor of English. You can visit his website www.gerrylafemina.net, follow him on Twitter @PoetinAmerica, or friend him on Facebook if you want to know more.
---