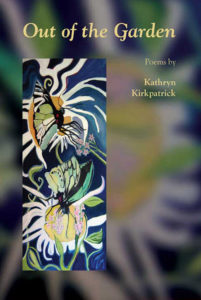 Poetry. Paper, perfect bound, 76 pp.
$14.95 plus s&h
2007 ISBN 0-932412-51-3
ISBN+13 978-0932412-515
In a dark world of loss, betrayal and regret, Kathryn Kirkpatrick powerfully reveals experiences that we find recognizable yet surprising. These poems weave together the obsessions of a woman's mind with the physical passion she experiences.
Finalist, 2007 SIBA (Southern Independent Booksellers Association) Book Award.
---
Out of the Garden, 4
by Kathryn Kirkpatrick
When nasturtiums bloom
offering their spiced petals,
we try to be grateful.
They sprawl over the zinnias,
outgrow borders, tangle the lawn,
their rubied excess and startle of flame
make a mess of our plans.
Even pulled up by the handful
they bloom again in compost,
ribbed seeds soon sheltering
under each leaf.
What can we do but give in?
Insistent, unfathomable abundance
remakes our desires. Perhaps,
after all, this is the flower we need.
---
Raised in the nomadic subculture of the U.S. military, Kathryn Kirkpatrick was born in Columbia, South Carolina, and grew up in the Phillipines, Germany, Texas and the Carolinas. Today she lives with her husband and two shelties in the Blue Ridge Mountains of North Carolina where she is Professor of English at Appalachian State University.