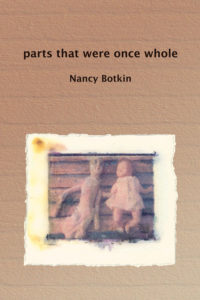 Poetry. Paper, perfect bound, 72 pp.
$14.95 plus s&h
2007, ISBN 0-932412-49-1
Beautifully honest and heartbreaking, Parts That Were Once Whole boldly exposes the human psyche. Botkin examines questions of mortality, consciousness, and the concept of self. Memories start as solid events and become fragmented over time; Botkin takes those fragments and creates a luminous image of what was once whole.
---
Drought
by Nancy Botkin
Early on the heart recoils,
learns to mistrust. How much
is too much?
With one foot pressed against the truck fender,
the farmer tugs the bill on his red cap
while the TV newswoman interviews him.
The rain he's been waiting for has arrived.
But the downside—
and we hold our breath.
The big afternoon sky all around him.
New fertilizer needs to be applied.
The rain washes it all away.
The cost.
Or—
the photo of the woman taken
just after her winning number is announced.
More than shock
or disbelief.
Wide-eyed and both hands
shielding the heart.
And the lover—
after so many failed loves—
caught off guard in an unexpected turn
toward the sun. A fortune.
Even if it ends tomorrow, I really haven't lost…
The heart here flushed
and curling inward
like the child moments before
the birthday party who can't come out
from under the bed
or the blanket to face the abundance.
---
Nancy Botkin was born in Detroit and spent her youth in Michigan. Her poems have appeared in numerous journals including Poetry, Poetry East, The Midwest Quarterly, Passages North, and South Dakota Review. Her chapbook, Signs of Life, was published by No Exit Press in 1999. Nancy lives in South Bend , Indiana, with her husband and teaches freshman composition and creative writing at Indiana University South Bend.