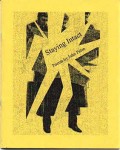 Poetry. Paper, saddlestitched, 28 pp
$6 plus s&h
1997, ISBN-0-932412-11-4
These poems, as with any real poetry, make us see in new and deeper ways. Most of the works involve common feelings or occurances that we do not normally deem significant or beautiful. John's elegant use of words brings out that beauty (not always a pleasant beauty).
---
Sundays at the Office
by John Palen
Each office has its individual touch,
a map of Canada or photographs,
cartoons from the New Yorker. It's with such
details we intersect each other's paths
and point to life beyond the cubicle.
Her flowers, dried at home, adorn a shelf,
his children's crayon drawings crowd the
……. Read more about Staying Intact – John Palen