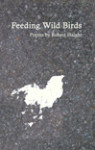 Poetry. Paper, Perfect Bound. 80 pages
$15.95 plus S&H
2013, ISBN 978-1-936419-27-2
Feeding Wild Birds is a collection of poems rooted in the Michigan landscape, as seasons and lives undergo their seamless and subtle transformations. These are meditative poems in spare and simple language that examine the energies in animals, woods, lakes, land, weather and the human heart. In the silences and sounds of nature, the poems speak of the spirit that hovers just beyond the realm of our ideas, that whispers to us in stillness and that lights the paths of our awakening to the beauty of the world.
---
Praise for "Feeding Wild Birds"
Like the Buddhist and Taoist sages whom he admires, Haight places human life within the great realities—seasons, weathers, the
……. Read more about Feeding Wild Birds – Robert Haight