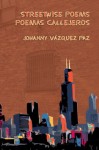 Poetry – bilingual. Paper, perfect bound,
74 pp.
$14.95 plus s&h
2007, ISBN 0-932412-46-7
These sensuous and passionate poems explore one of the many strands of contemporary Latino immigrant experience, dancing the tropical sensibility of Puerto Rico among Chicago's concrete and broken glass. In Spanish and English, with translations by the author.
2007 PEN Beyond Margins nominee
2007 Pushcart Prize nominee
Honorable Mention, Mariposa First Book Award, 2008 International Latino Book Awards
Read a review of Johanny Vázquez Paz's Poemas Callejeros / Streetwise Poems
---
La ciudad donde habito / The City Where I Live
by Johanny Vázquez Paz
Esta ciudad donde habito con sus muchas
……. Read more about Poemas Callejeros / Streetwise Poems – Johanny Vázquez Paz