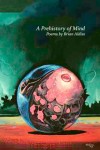 Poetry. Paper, Perfect Bound. 76pp.
$14.95 plus S&H
2008, ISBN 978-0932412-614
Note: You don't have to have a PayPal account in order to use the PayPal button, just a credit card.
Published here for the first time, on an exclusive basis, is Aldiss' new short story, "Mortistan". Experience a different side of Brian Aldiss in this volume-soon to be a collectors' item!
This self-revealing volume allows readers to:
ramble through a Martian desert and other fantastic realms
visit the Kremlin, Ulan Bator, a European cafe
get a glimpse of Aldiss' personal life
live through the eyes of a volcano
witness the terror of war and creation of the world

Colour Contrast
……. Read more about A Prehistory of Mind – Brian Aldiss